Over the years, many have noticed the humble kitchen evolving from a small cooking place into a dynamic living area. Those involved in kitchen remodels have seen many new innovations in both visual and functionality.
We've seen a continuation of the growth in ultra contemporary shaker style cabinetry with bright white dominating the color themes. Further, statistics show the upper end kitchens still prefer the traditional raised panel cabinets in an off-white/eggshell color and the darker, rich cherry stain cabinets coming in second. Choices in back splash and wall coverings have virtually exploded with an incredible variety of designs and materials. Consumer choices of knobs and pulls have also become a great way to give your kitchen its individual character.
Some of the more recent functional innovations to consider:
*Under-the-counter microwave placement is a wonderful example of how a simple base cabinet conversion can be a safer, more convenient use of space. Studies have shown that the traditional over the range microwave can actually be dangerous for children or shorter people when they are removing sizzling hot dishes from "above the shoulder" level. With the trend to remove counter clutter, under the counter is a natural.
*Fold Down Hardware attached to the bottom of the upper cabinets is designed to hold tablets/recipe books/TVs. Again, the trend to remove counter top clutter and increase work space brings some really cool and inexpensive ways to bring information to a cook's finger tips or introduce entertainment or a just another focal point!
*Electrical Outlets are also being placed underneath (and sometimes inside) the upper cabinets rather than the traditional placement along the back wall.
*Built in pet feeding cabinets. Consider asking your carpenter to build a food bowl drawer that rolls out from below a base cabinet. The "toe board" is typically covers wasted space that is easily converted into extra storage.
*Island seating has become much more prevalent in the remodel markets as the baby-boomers, gen-x and millennials all tend to want to entertain in the kitchen.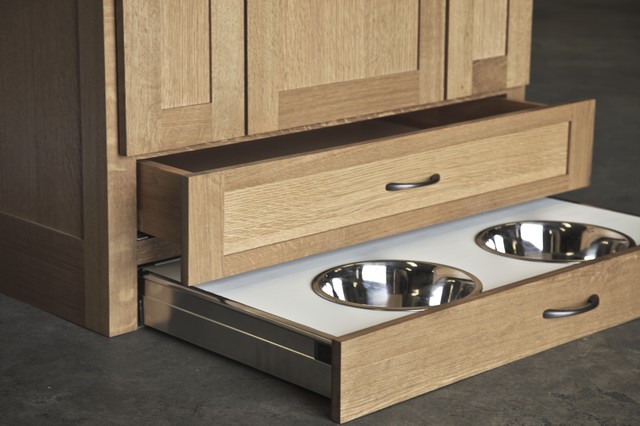 Incorporating some of these modern ideas into your kitchen renovation may depend on many factors. First, your considerations should include your wants and needs, not necessarily what the best resale ROI might be. Think about the make up of your household, now and in the future. A young family may want to consider space for a study desk or computer work station where a retired couple may want to consider wheel chair space and easier access storage.
What ever your situation might be, researching new trends and innovations in kitchen designs and kitchen cabinets can certainly help make your remodel project a lasting success.