Does it matter which cabinet door frame joints are used in your kitchen? When refering to a typical, wood cabinet door, I find that a mortise and tenon joint is the by far the most commonly seen in the main stream cabinets.

This joinery is strong, durable and allows the door frame to "breathe" so it adjust to its environmental factors.
In recent years, there has been a re-emergence of mitered cabinet door frames. A slightly weaker joint that uses slightly more material and is slightly harder to make, but it does have its good points. The most common comment I hear is that it has a pleasing visual effect. The longer, diagonal joint has the ability to trick the eye and blend the joint line where the wood grains change from horizontal to vertical.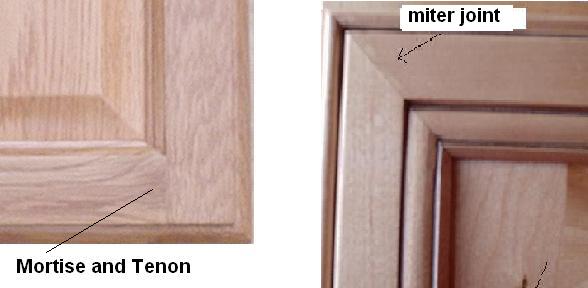 Hmmm, this picture seems to show just the opposite! Do we see a suspicious upgrade where you get to pay extra for a perceived value? There is nothing structurally wrong with a mitered corner and it is usually a sign of extra craftsmanship. If you don't like the checkered effect of typical stained wood cabinets, you should definitely consider mitered corner doors, especially in the lighter colored stains.
See more tips on cabinet shopping at
By Granger Davis