The SHILOH SHAKER is a marvelous toffee stained (birch) with no accent lines. The door's are a stylish flat panel SHAKER design with a contemporary decor and sturdy mortised door frame construction. The drawer faces are a matching 5 piece and the drawer boxes have Solid Wood sides (3/5birch) with plywood (1/2) bottom panel natural finish with – Dovetail Joints and Full Extension-SoftClose-Under Mount hardware. Cabinet Box construction is 1/2 inch furniture grade plywood with robotically pre set steel assembly brackets and pre cut dado slots. The interior and exterior side panels are veneered and stained to match. Ships from NJ with a typical processing time of 72 hours –
FREE FREIGHT! *** minimum purchase required.*** Orders less than $2000 may see a small supplemental freight charge attached at check out. Delivery only to your confirmed credit card address, lower 48 States only. (all sales in usd $) Sales Tax is collected on FL destinations only (resale certificate exceptions).
Pre-arranged customer pick ups or "customer directed" commercial pick ups may be available. Pre-Assembly may be available on certain cabinet lines. Adds approximately $20 per cabinet plus additional freight charges and adds two weeks to delivery times.
Prices, Specifications and Availability subject to change without notice. If you have any questions please call 386-761-4946
| | | | |
| --- | --- | --- | --- |
| | | | Wall Cabinets-standard |
| Shiloh Shaker SAMPLE DOOR | 50.00 | | (mini base front) refundable* |

| | | | |
| --- | --- | --- | --- |
| W0930 – SHIL | $85.27 | | WallCabinet- 9Wx30Hx12D 1door |
| W1230 – SHIL | $94.24 | | WallCabinet-12Wx30Hx12D 1door |
| W1530 – SHIL | $103.21 | | WallCabinet-15Wx30Hx12D 1door |
| W1830 – SHIL | $114.44 | | WallCabinet-18Wx30Hx12D 1door |
| W2130 – SHIL | $138.37 | | WallCabinet-21Wx30Hx12D 1door |
| W2430 – SHIL | $148.09 | | WallCabinet-24Wx30Hx12D 2door |
| W2730 – SHIL | $161.55 | | WallCabinet-27Wx30Hx12D 2door |
| W3030 – SHIL | $166.79 | | WallCabinet-30Wx30Hx12D 2door |
| W3330 – SHIL | $179.5 | | WallCabinet-33Wx30Hx12D 2door |
| W3630 – SHIL | $191.47 | | WallCabinet-36Wx30Hx12D 2door |
| W0936 – SHIL | $107.71 | | WallCabinet-9Wx36Hx12D 1door |
| W1236 – SHIL | $114.44 | | WallCabinet-12Wx36Hx12D 1door |
| W1536 – SHIL | $124.16 | | WallCabinet-15Wx36Hx12D 1door |
| W1836 – SHIL | $138.37 | | WallCabinet-18Wx36Hx12D 1door |
| W2136 – SHIL | $165.3 | | WallCabinet-21Wx36Hx12D 1door |
| W2436 – SHIL | $176.51 | | WallCabinet-24Wx36Hx12D 2door |
| W2736 – SHIL | $199.7 | | WallCabinet-27Wx36Hx12D 2door |
| W3036 – SHIL | $216.16 | | WallCabinet-30Wx36Hx12D 2door |
| W3336 – SHIL | $229.62 | | WallCabinet-33Wx36Hx12D 2door |
| W3636 – SHIL | $240.09 | | WallCabinet-36Wx36Hx12D 2door |
| W0942 – SHIL | $119.67 | | WallCabinet-9Wx42Hx12D 1door |
| W1242 – SHIL | $126.41 | | WallCabinet-12Wx42Hx12D 1door |
| W1542 – SHIL | $137.62 | | WallCabinet-15Wx42Hx12D 1door |
| W1842 – SHIL | $151.83 | | WallCabinet-18Wx42Hx12D 1door |
| W2142 – SHIL | $183.24 | | WallCabinet-21Wx42Hx12D 1door |
| W2442 – SHIL | $197.46 | | WallCabinet-24Wx42Hx12D 2door |
| W2742 – SHIL | $230.36 | | WallCabinet-27Wx42Hx12D 2door |
| W3042 – SHIL | $255.05 | | WallCabinet-30Wx42Hx12D 2door |
| W3342 – SHIL | $269.26 | | WallCabinet-33Wx42Hx12D 2door |
| W3642 – SHIL | $286.45 | | WallCabinet-36Wx42Hx12D 2door |

| | | | |
| --- | --- | --- | --- |
| W2415 – SHIL | $95.74 | | WallCabinet-24Wx15Hx12D 2door |
| W2418 – SHIL | $103.21 | | WallCabinet-24Wx18Hx12D 2door |
| W2424 – SHIL | $132.38 | | WallCabinet-24Wx24Hx12D 2door |
| W3012 – SHIL | $95.74 | | WallCabinet-30Wx12Hx12D 2door |
| W3015 – SHIL | $107.71 | | WallCabinet-30Wx15Hx12D 2door |
| W301524 – SHIL | $145.85 | | WallCabinet-30Wx15Hx24D 2door |
| W3018 – SHIL | $118.92 | | WallCabinet-30Wx18Hx12D 2door |
| W3024 – SHIL | $148.83 | | WallCabinet-30Wx24Hx12D 2door |
| W302424 – SHIL | $175.77 | | WallCabinet-30Wx24Hx24D 2door |
| W3315 – SHIL | $116.67 | | WallCabinet-33Wx15Hx12D 2door |
| W3318 – SHIL | $126.41 | | WallCabinet-33Wx18Hx12D 2door |
| W3324 – SHIL | $159.31 | | WallCabinet-33Wx24Hx12D 2door |
| W3612 – SHIL | $107.71 | | WallCabinet-36Wx12Hx12D 2door |
| W361224 – SHIL | $145.85 | | WallCabinet-36Wx12Hx24D 2door |
| W3615 – SHIL | $118.92 | | WallCabinet-36Wx15Hx12D 2door |
| W361524 – SHIL | $161.55 | | WallCabinet-36Wx15Hx24D 2door |
| W3618 – SHIL | $134.63 | | WallCabinet-36Wx18Hx12D 2door |
| W361824 – SHIL | $183.24 | | WallCabinet-36Wx18Hx24D 2door |
| W3624 – SHIL | $170.53 | | WallCabinet-36Wx24Hx12D 2door |
| W362424 – SHIL | $198.2 | | WallCabinet-36Wx24Hx24D 2door |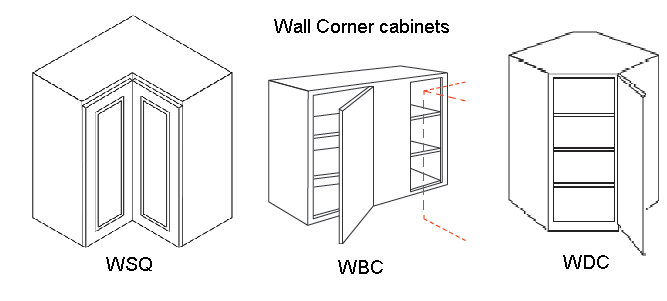 | | | | |
| --- | --- | --- | --- |
| WDC2430 – SHIL | $213.17 | | WallDiagonal-24Wx30Hx12D 1door |
| WDC2436 – SHIL | $267.01 | | WallDiagonal-24Wx36Hx12D 1door |
| WDC2442 – SHIL | $283.47 | | WallDiagonal-24Wx42Hx12D 1door |
| wbc3030 – SHIL | $217.99 | | WallBlind-30Wx30Hx12D (silver series1door) pull min30 to max33 |
| wbc3036 – SHIL | $288.93 | | WallBlind-30Wx36Hx12D (silver series1door) pull min30 to max33 |
| wbc3042 – SHIL | $331.05 | | WallBlind-30Wx42Hx12D (silver series1door) pull min30 to max33 |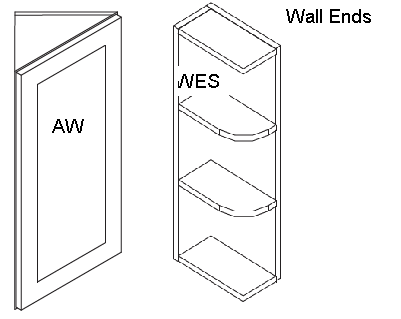 | | | | |
| --- | --- | --- | --- |
| AW30 – SHIL | $145.1 | | angle wall end (triangle)12Wx30Hx12D |
| AW36 – SHIL | $174.26 | | angle wall end (triangle)12Wx36Hx12D |
| AW42 – SHIL | $204.19 | | angle wall end (triangle)12Wx42Hx12D |
| WES530 – SHIL | $67.31 | | wallendshelf angled top and bottom plate5Wx30Hx12D |
| WES536 – SHIL | $80.77 | | wallendshelf angled top and bottom plate5Wx36Hx12D |
| WES542 – SHIL | $94.99 | | wallendshelf angled top and bottom plate5Wx42Hx12D |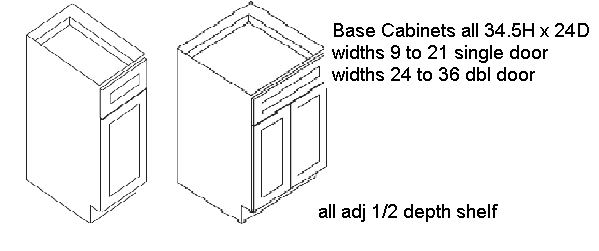 | | | | |
| --- | --- | --- | --- |
| B09 – SHIL | $140.61 | | base9Wx34.5Hx24D 1door 1drwr |
| B12 – SHIL | $159.31 | | base12Wx34.5Hx24D 1door 1drwr |
| B15 – SHIL | $166.04 | | base15Wx34.5Hx24D 1door 1drwr |
| B18 – SHIL | $174.26 | | base18Wx34.5Hx24D 1door 1drwr |
| B21 – SHIL | $196.7 | | base21Wx34.5Hx24D 1door 1drwr |
| B24 – SHIL | $211.66 | | base24Wx34.5Hx24D 2door 1drwr |
| B27 – SHIL | $228.12 | | base27Wx34.5Hx24D 2door 1drwr |
| B30 – SHIL | $266.26 | | base30Wx34.5Hx24D 2door 2drwr |
| B33 – SHIL | $278.23 | | base33Wx34.5Hx24D 2door 2drwr |
| B36 – SHIL | $290.2 | | base36Wx34.5Hx24D 2door 2drwr |
| | | | |
| --- | --- | --- | --- |
| DB12 – SHIL | $278.98 | | basedrawers12Wx34.5Hx24D 0door3drwr |
| DB15 – SHIL | $290.95 | | basedrawers15Wx34.5Hx24D 0door3drwr |
| DB18 – SHIL | $298.42 | | basedrawers18Wx34.5Hx24D 0door3drwr |
| DB21 – SHIL | $306.66 | | basedrawers21Wx34.5Hx24D 0door3drwr |
| DB24 – SHIL | $322.36 | | basedrawers24Wx34.5Hx24D 0door3drwr |
| DB30 – SHIL | $534.77 | | basedrawers30Wx34.5Hx24D 0door3drwr |
| DB36 – SHIL | $547.49 | | basedrawers36Wx34.5Hx24D 0door3drwr |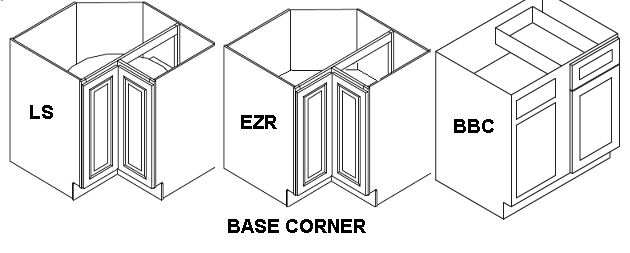 | | | | |
| --- | --- | --- | --- |
| LS3309 – SHIL | $385.18 | | basecorner33x33Wx34.5Hx24D 1bifolddoor-lazysusan |
| LS3612 – SHIL | $415.85 | | basecorner36x36Wx34.5Hx24D 1bifolddoor-lazysusan |
| EZR36 – SHIL | $367.99 | | ez reach 36x36x34.5 |
| BBC39 – SHIL | $298.42 | | baseblindcorner36Wx34.5Hx24D 1door 1drwr 39to42footprint spec LorR |
| BBC42 – SHIL | $301.42 | | baseblindcorner39Wx34.5Hx24D 1door 1drwr 42to45footprint spec LorR |
| BBC45 – SHIL | $304.41 | | baseblindcorner42Wx34.5Hx24D 1door 1drwr 45to48footprint spec LorR |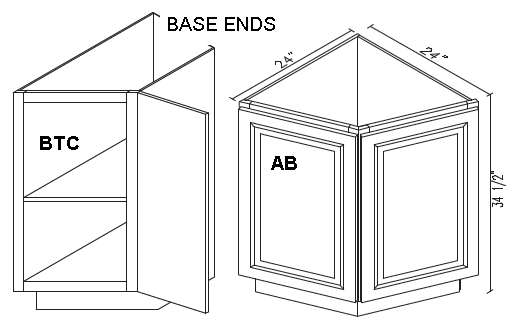 | | | | |
| --- | --- | --- | --- |
| AB24 – SHIL | $368.73 | | angle base end (triangle)24Wx34.5Hx24D or 22.5+22.5 |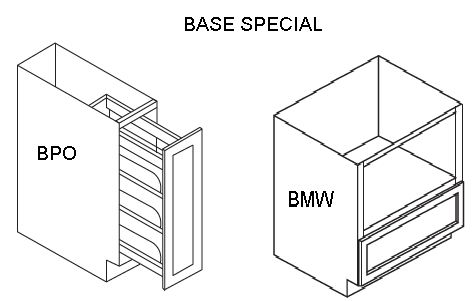 | | | | |
| --- | --- | --- | --- |
| BFP09 – SHIL | $347.79 | | basepulloutpantry9Wx34.5Hx24D 1door |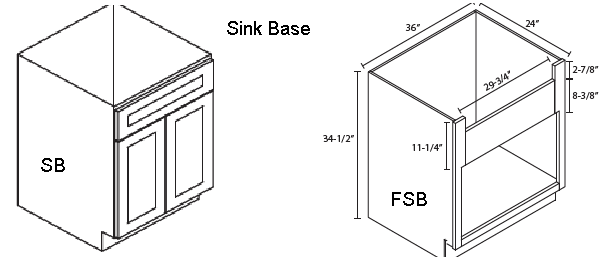 | | | | |
| --- | --- | --- | --- |
| SB24 – SHIL | $197.3 | | sink base false drwr front 24w-34.5h-24d |
| SB27 – SHIL | $209.42 | | sinkbase27Wx34.5Hx24D 2door false drwr |
| SB30 – SHIL | $216.9 | | sinkbase30Wx34.5Hx24D 2door false drwr |
| SB33 – SHIL | $224.38 | | sinkbase33Wx34.5Hx24D 2door false drwr |
| SB36 – SHIL | $234.1 | | sinkbase36Wx34.5Hx24D 2door false drwr |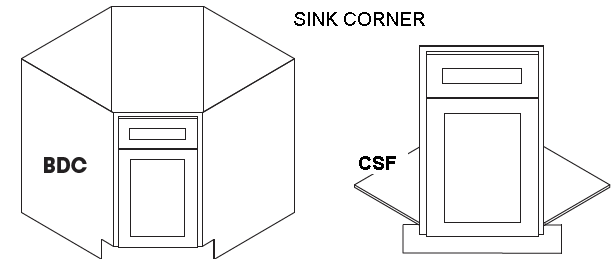 | | | | |
| --- | --- | --- | --- |
| BDCF36 – SHIL | $388.18 | | basecornerSINKBASE 36x36Wx34.5Hx24D 1door |
| CSF36 – SHIL | $116.67 | | basecorner36x36Wx34.5Hx24D 1door cornersinkfront false drwr- with floor |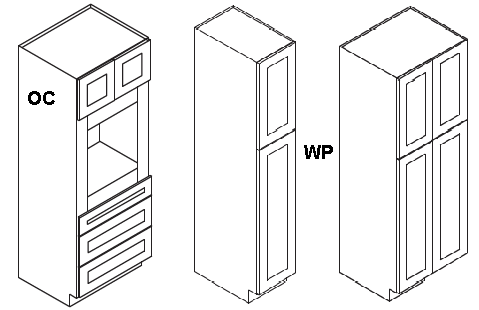 | | | | |
| --- | --- | --- | --- |
| OC3384 – SHIL | $784.58 | | ovencabinet33Wx84Hx24D call for openings |
| OC3390 – SHIL | $847.41 | | ovencabinet33Wx90Hx24D call for openings |
| OC3396 – SHIL | $904.25 | | ovencabinet33Wx96Hx24D call for openings |
| WP1884 – SHIL | $480.18 | | pantry18Wx84Hx24D 2door 1+3shelf (elt4) |
| WP1890 – SHIL | $516.07 | | pantry18Wx90Hx24D 2door 1+3shelf (elt4) |
| WP1896 – SHIL | $551.23 | | pantry18Wx96Hx24D 2door 1+3shelf (elt4) |
| WP2484 – SHIL | $601.34 | | pantry24Wx84Hx24D 4door 1+3shelf (elt4) |
| WP2490 – SHIL | $646.22 | | pantry24Wx90Hx24D 4door 1+3shelf (elt4) |
| WP2496 – SHIL | $691.84 | | pantry24Wx96Hx24D 4door 1+3shelf (elt4) |

| | | | |
| --- | --- | --- | --- |
| CORBEL54 – SHIL | $48.61 | | corbel3Wx6Hx4D |
| CORBEL59 – SHIL | $71.05 | | corbel3Wx9Hx6D |

| | | | |
| --- | --- | --- | --- |
| CM8 – SHIL | $55.34 | | 2.375x96crown (elt2.75×94.5) |
| CM8-4 – SHIL | $89.01 | | 4.5x96crown () no insert |
| CM8-E – SHIL | $116.67 | | 4x96crown flat contempo top mount |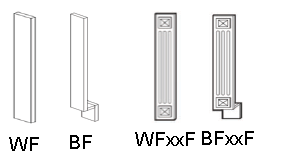 | | | | |
| --- | --- | --- | --- |
| WF3 – SHIL | $16.45 | | filler3Wx30Hx0.75D |
| WF336 – SHIL | $20.19 | | filler3Wx36Hx0.75D |
| WF342 – SHIL | $25.43 | | filler3Wx42Hx0.75D |
| WF384 – SHIL | $47.12 | | filler3Wx84Hx0.75D |
| WF396 – SHIL | $55.34 | | filler3Wx96Hx0.75D |
| WF630 – SHIL | $33.66 | | filler6Wx30Hx0.75D |
| WF642 – SHIL | $49.36 | | filler6Wx42Hx0.75D |
| WF696 – SHIL | $108.45 | | filler6Wx96Hx0.75D |
| BF3 – SHIL | $26.92 | | base filler3Wx34.5Hx0.75D |
| BF6 – SHIL | $45.62 | | base filler6Wx34.5Hx0.75D |
| BF3Fm – SHIL | $36.64 | | base filler fluted 3Wx34.5Hx0.75D w medalions |

| | | | |
| --- | --- | --- | --- |
| W1530GD – SHIL | $60.58 | | glass door only |
| W1536GD – SHIL | $71.8 | | glass door only |
| W1830GD – SHIL | $80.03 | | glass door only |
| W1836GD – SHIL | $95.74 | | glass door only |
| W3030GD – SHIL | $123.41 | | glass door only set of 2 |
| W3036GD – SHIL | $139.87 | | glass door only set of 2 |
| W3630GD – SHIL | $181.75 | | glass door only set of 2 |
| WDC2430GD – SHIL | $65.07 | | glass door only |
| WDC2436GD – SHIL | $77.78 | | glass door only |
| WDC2442GD – SHIL | $91.24 | | glass door only |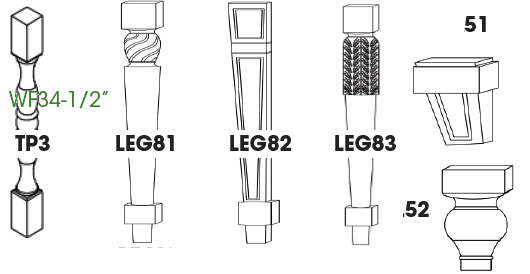 | | | | |
| --- | --- | --- | --- |
| TP3 – SHIL | $154.82 | | slice leg w filler3Wx34.5H |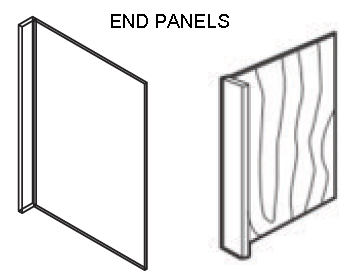 | | | | |
| --- | --- | --- | --- |
| WDEP30 – SHIL | $52.35 | | deco end panel looks like door for 30 high wall cab |
| WDEP36 – SHIL | $63.58 | | deco end panel looks like door for 36 high wall cab |
| WDEP42 – SHIL | $76.29 | | deco end panel looks like door for 42 high wall cab |
| BDEP – SHIL | $133.14 | | deco end panel looks like door for base cab |
| BEP3 – SHIL | $59.84 | | base end panel w 3 inch face fill dishwasher end panel |
| REP2484 – SHIL | $156.32 | | refrig end panel .75thick w one edgeband |
| REP2496 – SHIL | $178.76 | | refrig end panel .75thick w one edgeband |
| REP84 – SHIL | $181.01 | | refrig end panel w 3inch face |
| REP96 – SHIL | $216.16 | | refrig end panel w 3inch face |
| REP3096-3 – SHIL | $293.2 | | refrig end panel w 3inch face 30deep |
| PNL4X8 – SHIL | $126.41 | | 1/4inch panel 4×8 long grain |
| PNL4X3BB – SHIL | $118.92 | | 1/4inch panel 4×34.5 |


| | | | |
| --- | --- | --- | --- |
| SM8 – SHIL | $14.96 | | scribe .25H x0.75W x96L |
| ISC8 – SHIL | $21.69 | | insidecorner mold0.75Wx0.75Hx96 |
| OCM8 – SHIL | $20.95 | | outside corner trim0.25Wx0.75Hx96 |
| FBM – SHIL | $86.76 | | furniture toe board4.5Wx0.5Hx96 |
| TK8 – SHIL | $36.64 | | toe kick board4.5Wx0.5Hx96 |

| | | | |
| --- | --- | --- | --- |
| LRM8 – SHIL | $60.58 | | light rail1.5Wx1Hx96 |
| TLRM8 – SHIL | $148.09 | | traditional light rail1.5Wx2.25Hx96 |

| | | | |
| --- | --- | --- | --- |
| VAS48 – SHIL | $31.42 | | valance scallop s= stria |
| VAD3612 – SHIL | $86.01 | | valance deco d=deco |
| VAD4212 – SHIL | $108.45 | | valance deco |
| VAD4812 – SHIL | $136.13 | | valance deco |
| VAL48s – SHIL | $66.57 | | arched valance trimable |
| VAL54s – SHIL | $74.04 | | arched valance trimable |

| | | | |
| --- | --- | --- | --- |
| VB24A – SHIL | $172.03 | | vanity base 24w x 21d x34.5h 2door+false head |
| VB30A – SHIL | $218.4 | | vanity base 30w x 21d x34.5h 2door+false head |
| VB36A – SHIL | $261.78 | | vanity base 36w x 21d x34.5h 2door+false head |
| VBD30A-L – SHIL | $318.63 | | vanity base 30w x 21d x34.5h 1door+false head + 2drawer LH |
| VBD30A-R – SHIL | $318.63 | | vanity base 30w x 21d x34.5h 1door+false head + 2drawer RH |
| VBD36A-L – SHIL | $354.52 | | vanity base 36w x 21d x34.5h 2door+false head + 2drawer LH |
| VBD36A-R – SHIL | $354.52 | | vanity base 36w x 21d x34.5h 2door+false head + 2drawer RH |
| VBTD48A – SHIL | $477.93 | | vanity base 48w x 21d x34.5h 4door+false head ctr+ 2 top drawers |
| VD12A – SHIL | $329.09 | | vanity 3drawer base12Wx34.5Hx21D |
| VD15A – SHIL | $344.05 | | vanity 3drawer base15Wx34.5Hx21D |
| DSK30 – SHIL | $96.48 | | knee drawer 30Wx 7Hx 21D |

| | | | |
| --- | --- | --- | --- |
| TCR21-2 – SHIL | $251.3 | | trashcan roll out hardware 2can for b21 or b18 |
| 15RT – SHIL | $65.82 | | roll out tray for base cabinet w dovetail sc hdwre |
| 18RT – SHIL | $74.04 | | roll out tray for base cabinet w dovetail sc hdwre |
| 24RT – SHIL | $80.77 | | roll out tray for base cabinet w dovetail sc hdwre |
| 30RT – SHIL | $97.23 | | roll out tray for base cabinet w dovetail sc hdwre |
| 36RT – SHIL | $139.11 | | roll out tray for base cabinet w dovetail sc hdwre |
| 27RT – SHIL | $89.01 | | roll out tray for base cabinet w dovetail sc hdwre |
| 33RT – SHIL | $118.17 | | roll out tray for base cabinet w dovetail sc hdwre |
| W3018WR – SHIL | $147.34 | | wall wine rack30Wx18Hx12D |
| W3018MW – SHIL | $124.91 | | wall open w shelf for sml counter top microwave |