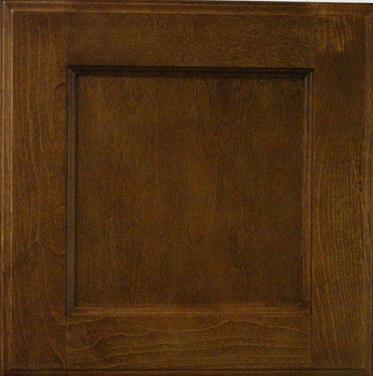 The Bimini is a richly stained (birch).  The deep espresso color allows just a hint of grain variations. The door's are a traditional recessed panel, full overlay (1/4″ reveal) design, sturdy mortise and tenon door frame construction. The drawer faces are a matching 5piece,  recessed panel and the drawer boxes are Solid Wood sides(3/5birch) with plywood bottom panel natural finish with Dovetail Joints and Full Extension,  Under Mount hardware. Cabinet Box construction is 1/2 inch furniture grade plywood with  pre cut dado slots. NO PRE-SET ASSEMBLY POINTS (staple gun or clamps suggested to aid assembly)  The interior panels are natural stained. Ships from NC with a typical processing time of 72 hours.  Customer Pickups available in Raleigh with pre approved contracts.
Free Freight Included in these prices (most US addresses lower 48 – Minimum Purchase Required) – Orders of less than $1999 may have additional freight charges added.
Sales Tax is charged on FL destinations only (resale certificate exceptions). Cabinets will only be shipped to verified and confirmed paypal/credit card address.
Pre-arranged customer pick ups or "customer handled" commercial pick ups may be available.
Prices, Specifications and Availability subject to change without notice. If you have any questions please call 386-761-4946
Bimini
1. Cabinet Box: 1/2″, 7ply, plywood
2. Drawer Box: 5/8″ solid wood, Dovetails
3. Drawer Slide: Full extension, undermount
4. Wood face and door frame: Chinese Birch
5. Door Hinge: DTC 6 way adjustable
6. Shelves: adjustable 3/4″ plywood
7. Cabinet interior finish: Natural
8. Cabinet exterior sides: Stained to match
9. Finish Color: Espresso
10. Glazing: None
11. Base corner Blocks: 3/4″ plywood
12. Face Frame: solid wood 1 1/2 rails&stiles
13. Door: 5piece, recessed panel
14. Drawer Head: 5 piece recessed panel
15. Approvals: KCMA, CARB, E1
16. Assembly: Glue/staples, no cams or brackets
17. Full Overlay with no center stiles
| | | | |
| --- | --- | --- | --- |
| Bimini SAMPLE DOOR | 25.00 | | (approx 12×12 door only) refundable* |
| 15rt BIM | 42.06 | | Biminiroll out trays 2per package |
| 18rt BIM | 44.34 | | Biminiroll out trays 2per package |
| 21rt BIM | 47.75 | | Biminiroll out trays 2per package |
| 24rt BIM | 50.02 | | Biminiroll out trays 2per package |
| 27rt BIM | 51.73 | | Biminiroll out trays 2per package |
| 30rt BIM | 52.86 | | Biminiroll out trays 2per package |
| 36rt BIM | 64.23 | | Biminiroll out trays 2per package |
| B09 BIM | 101.18 | | Biminibase cab 24dx34.5h full ht door no drawer |
| B12 BIM | 125.62 | | Biminibase cab 24dx34.5h top drawer hd shelf |
| B15 BIM | 142.67 | | Biminibase cab 24dx34.5h top drawer hd shelf |
| B18 BIM | 156.89 | | Biminibase cab 24dx34.5h top drawer hd shelf |
| B21 BIM | 170.53 | | Biminibase cab 24dx34.5h top drawer hd shelf |
| B27 BIM | 218.84 | | Biminibase cab 24dx34.5h top drawer hd shelf 2door |
| B30 BIM | 235.33 | | Biminibase cab 24dx34.5h top drawers hd shelf 2door |
| B33 BIM | 251.81 | | Biminibase cab 24dx34.5h top drawers hd shelf 2door |
| B36 BIM | 264.89 | | Biminibase cab 24dx34.5h top drawers hd shelf 2door |
| B42 BIM | 295.58 | | Biminibase cab 24dx34.5h top drawers hd shelf 2door |
| BBc36 BIM | 208.04 | | Biminiblind base no drawer |
| BBc42 BIM | 242.15 | | Biminiblind base |
| BBc48 BIM | 276.82 | | Biminiblind base |
| bep3 BIM | 44.91 | | Biminibase end panel w3″fill |
| cm8 BIM | 38.08 | | Biminicrown |
| cm8-c BIM | 76.74 | | Biminilarge classic crown3+ |
| CSF42 BIM | 90.38 | | Biminicorner sink front no floor false drwr header |
| DB12 BIM | 192.7 | | Bimini3drawer base cabinet |
| DB15 BIM | 209.18 | | Bimini3drawer base cabinet |
| DB18 BIM | 224.53 | | Bimini3drawer base cabinet |
| DB24 BIM | 255.79 | | Bimini3drawer base cabinet |
| dsk24 BIM | 73.9 | | Biminiknee drawers 4.5 high |
| EzR36 BIM | 283.08 | | Biminicorner base bifold door 36×36 |
| ls3612 BIM | 472.93 | | Biminilazy susan cornercab ezr36+lsk |
| lsk BIM | 189.85 | | Biminilazy susan kit for ezr 2tray |
| ocm8 BIM | 14.21 | | Biminioutsidecornermolding |
| pnl4x8 BIM | 105.73 | | Biminipanel long grain |
| pnl8x4 BIM | 105.73 | | Biminipanel long grain |
| qr8 BIM | 10.23 | | Biminishoe mold |
| rep96 BIM | 125.62 | | Biminirefrig end panel w 1.5 fill |
| SB33 BIM | 173.94 | | Biminisink base w false drwr heads |
| SB36 BIM | 185.87 | | Biminisink base w false drwr heads |
| SB42 BIM | 210.32 | | Biminisink base w false drwr heads |
| sm8 BIM | 5.68 | | Biminiscribe 1side bull nose |
| TK8 BIM | 9.09 | | Biminitoe kick 4.5h x .25 x 8 |
| tuk BIM | 22.74 | | BiminiTOUCH UP KIT |
| vb30a BIM | 156.32 | | Biminivanity sink base -false drwr headers 34.5h |
| vb36a BIM | 184.17 | | Biminivanity sink base -false drwr headers 34.5h |
| vbtd36a BIM | 229.08 | | Biminivanity base -top drwrs 34.5h for singlebowl |
| vbtd42a BIM | 251.81 | | Biminivanity base -top drwrs 34.5h for singlebowl |
| vbtd48a BIM | 291.6 | | Biminivanity base -top drwrs 34.5h for singlebowl |
| vd12 BIM | 184.74 | | Biminivanity base 3drwr 34.5h |
| vd15 BIM | 200.09 | | Biminivanity base 3drwr 34.5h |
| W1230 BIM | 78.44 | | Biminiwall cab 12deep 2shelf |
| W1236 BIM | 87.54 | | Biminiwall cab 12deep 2shelf |
| W1242 BIM | 103.45 | | Biminiwall cab 12deep 3shelf |
| W1530 BIM | 83.56 | | Biminiwall cab 12deep 2shelf |
| W1536 BIM | 101.75 | | Biminiwall cab 12deep 2shelf |
| W1542 BIM | 119.94 | | Biminiwall cab 12deep 3shelf |
| W1830 BIM | 97.77 | | Biminiwall cab 12deep 2shelf |
| W1836 BIM | 118.8 | | Biminiwall cab 12deep 2shelf |
| W1842 BIM | 137.56 | | Biminiwall cab 12deep 3shelf |
| W2130 BIM | 109.71 | | Biminiwall cab 12deep 2shelf |
| W2136 BIM | 131.87 | | Biminiwall cab 12deep 2shelf |
| W2142 BIM | 154.61 | | Biminiwall cab 12deep 3shelf |
| W2430 BIM | 128.46 | | Biminiwall cab 12deep 2shelf |
| W2436 BIM | 148.36 | | Biminiwall cab 12deep 2shelf |
| W2442 BIM | 172.8 | | Biminiwall cab 12deep 3shelf |
| W2730 BIM | 148.36 | | Biminiwall cab 12deep 2shelf |
| W2736 BIM | 163.71 | | Biminiwall cab 12deep 2shelf |
| W2742 BIM | 193.26 | | Biminiwall cab 12deep 3shelf |
| w3012 BIM | 72.19 | | Biminiwall bridge cab 12 deep |
| w3015 BIM | 87.54 | | Biminiwall bridge cab 12 deep |
| W3018 BIM | 92.65 | | Biminiwall bridge cab 12 deep |
| W3021 BIM | 105.16 | | Biminiwall bridge cab 12 deep |
| W3024 BIM | 124.49 | | Biminiwall bridge cab 12 deep |
| W3030 BIM | 150.06 | | Biminiwall cab 12deep 2shelf |
| W3036 BIM | 179.62 | | Biminiwall cab 12deep 2shelf |
| W3042 BIM | 213.16 | | Biminiwall cab 12deep 3shelf |
| w3315 BIM | 93.79 | | Biminiwall bridge cab 12 deep |
| W3324 BIM | 134.72 | | Biminiwall bridge cab 12 deep |
| W3330 BIM | 168.25 | | Biminiwall cab 12deep 2shelf |
| W3336 BIM | 193.26 | | Biminiwall cab 12deep 2shelf |
| W3342 BIM | 227.37 | | Biminiwall cab 12deep 3shelf |
| w3612 BIM | 84.13 | | Biminiwall bridge cab 12 deep |
| w3615 BIM | 99.47 | | Biminiwall bridge cab 12 deep |
| W3618 BIM | 106.86 | | Biminiwall bridge cab 12 deep |
| W3624 BIM | 145.52 | | Biminiwall bridge cab 12 deep |
| W3630 BIM | 174.51 | | Biminiwall cab 12deep 2shelf |
| W3636 BIM | 209.75 | | Biminiwall cab 12deep 2shelf |
| W3642 BIM | 242.72 | | Biminiwall cab 12deep 3shelf |
| W4230 BIM | 206.91 | | Biminiwall cab 12deep 2shelf |
| W4236 BIM | 239.88 | | Biminiwall cab 12deep 2shelf |
| W4242 BIM | 272.84 | | Biminiwall cab 12deep 3shelf |
| W930 BIM | 68.21 | | Biminiwall cab 12deep 2shelf |
| W936 BIM | 75.03 | | Biminiwall cab 12deep 2shelf |
| W942 BIM | 88.11 | | Biminiwall cab 12deep 3shelf |
| WBC3030 BIM | 147.79 | | Biminiwall cab 12deep 2shelf |
| WBC3036 BIM | 163.14 | | Biminiwall cab 12deep 2shelf |
| WBC3042 BIM | 200.65 | | Biminiwall cab 12deep 3shelf |
| WBC3630 BIM | 162.57 | | Biminiwall cab 12deep 2shelf |
| WBC3636 BIM | 181.33 | | Biminiwall cab 12deep 2shelf |
| WBC3642 BIM | 234.19 | | Biminiwall cab 12deep 3shelf |
| WDC2430 BIM | 176.21 | | Biminiwall cab 12deep 2shelf |
| WDC2436 BIM | 201.22 | | Biminiwall cab 12deep 2shelf |
| WDC2442 BIM | 236.46 | | Biminiwall cab 12deep 3shelf |
| WDC2742 BIM | 252.38 | | Biminiwall cab 12deep 3shelf |
| WF3 BIM | 30.13 | | BiminiSUBSTITUTE WF396 WF3X30NOTAVAILABLE |
| wf396 BIM | 30.13 | | Biminifiller |
| wf696 BIM | 60.25 | | Biminifiller |
| wP1884 BIM | 342.76 | | Biminipantry 24deep 4shelf |
| wP1890 BIM | 375.16 | | Biminipantry 24deep 4shelf |
| wP1896 BIM | 405.29 | | Biminipantry 24deep 5shelf |
| wP2484 BIM | 424.05 | | Biminipantry 24deep 4shelf |
| wP2490 BIM | 458.15 | | Biminipantry 24deep 4shelf |
| wP2496 BIM | 491.69 | | Biminipantry 24deep 5shelf |