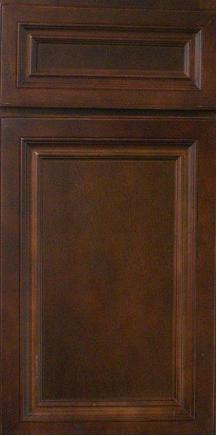 The Bermuda is a dark stained (birch).  The rich burnt sienna color allows just a hint of grain variations. The door's are a traditional recessed panel, full overlay (1/4″ reveal)  rolled edge design, mitered corner door frame construction helps blend the grain patterns. The drawer faces are a matching 5piece,  recessed panel and the drawer boxes are Solid Wood sides(3/5birch) with plywood bottom panel natural finish with Dovetail Joints and Full Extension,  Under Mount hardware. Cabinet Box construction is 1/2 inch furniture grade plywood with  pre cut dado slots. NO PRE-SET ASSEMBLY POINTS (staple gun or clamps suggested to aid assembly)  The interior panels are natural stained. Ships from NC with a typical processing time of 72 hours.  Customer Pickups available in Raleigh with pre approved contracts.
FREE FREIGHT! *** minimum purchase required.*** Orders less than $2000 may see a small supplemental freight charge attached at check out. Delivery only to your confirmed credit card address, lower 48 States only.   (all sales in usd $) Sales Tax is collected on FL destinations only (resale certificate exceptions).
Pre-arranged customer pick ups or "customer directed" commercial pick ups may be available. Pre-Assembly may be available on certain cabinet lines. Adds approximately $20 per cabinet plus additional freight charges and adds two weeks to delivery times.
Prices, Specifications and Availability subject to change without notice. If you have any questions please call 386-761-4946
Bermuda
1. Cabinet Box: 1/2″, 7ply, plywood
2. Drawer Box: 5/8″ solid wood, Dovetails
3. Drawer Slide: Full extension, undermount
4. Wood face and door frame: Chinese Birch
5. Door Hinge: DTC 6 way adjustable
6. Shelves: adjustable 3/4″ plywood
7. Cabinet interior finish: Natural
8. Cabinet exterior sides: Stained to match
9. Finish Color: BrandyWine
10. Glazing: None
11. Base corner Blocks: 3/4″ plywood
12. Face Frame: solid wood 1 1/2 rails&stiles
13. Door: 5piece, mitered w recessed panel
14. Drawer Head: 5 piece mitered w recessed panel
15. Approvals: KCMA, CARB, E1
16. Assembly: Glue/staples, no cams or brackets
17. Full Overlay with no center stiles
W3012 WAll30w12d12h 74.85
W3612 WAll36w12d12h 87.23
W3015 WAll30w12d15h 90.77
W3315 WAll33w12d15h 97.25
W3615 WAll36w12d15h 103.14
W3018 WAll30w12d18h 96.07
W3618 WAll36w12d18h 110.81
W3021 WAll30w12d21h 109.04
W3024 wall30w12d24h 129.08
W3324 wall33w12d24h 139.69
W3624 wall36w12d24h 150.88
W361824 24″ Deep Wall (Refrigerator Cabinet) 167.39
W362424 24″ Deep Wall (Refrigerator Cabinet) 194.5
W0930 30″-36″ High Single Door Wall 70.73
W1230 30″-36″ High Single Door Wall 81.34
W1530 30″-36″ High Single Door Wall 86.64
W1830 30″-36″ High Single Door Wall 101.37
W2130 30″-36″ High Single Door Wall 113.75
W2430-1 30″-36″ High Single Door Wall 133.2
W0936 30″-36″ High Single Door Wall 77.8
W1236 30″-36″ High Single Door Wall 90.77
W1536 30″-36″ High Single Door Wall 105.5
W1836 30″-36″ High Single Door Wall 123.18
W2136 30″-36″ High Single Door Wall 136.74
W2730 30″-36″ High Double Door Wall 153.83
W3030 30″-36″ High Double Door Wall 155.6
W3330 30″-36″ High Double Door Wall 174.46
W3630 30″-36″ High Double Door Wall 180.94
W2436 30″-36″ High Double Door Wall 153.83
W2736 30″-36″ High Double Door Wall 169.74
W3036 30″-36″ High Double Door Wall 186.25
W3336 30″-36″ High Double Door Wall 200.39
W3636 30″-36″ High Double Door Wall 217.48
W4230 30″-36″ High Double Door Wall w/ Center Stile 214.54
W4236 30″-36″ High Double Door Wall w/ Center Stile 248.72
WBC3030 30″-36″ High Blind Wall 153.24
WBC3630 30″-36″ High Blind Wall 168.57
WBC3036 30″-36″ High Blind Wall 169.15
WBC3636 30″-36″ High Blind Wall 188.02
WDC2430 30″-36″ High Corner Wall 182.71
WDC2436 30″-36″ High Corner Wall 208.64
W0942 42″ High Single Door Wall 91.36
W1242 42″ High Single Door Wall 107.27
W1542 42″ High Single Door Wall 124.36
W1842 42″ High Single Door Wall 142.63
W2142 42″ High Single Door Wall 160.31
W2442 42″ High Double Door Wall 179.17
W2742 42″ High Double Door Wall 200.39
W3042 42″ High Double Door Wall 221.02
W3342 42″ High Double Door Wall 235.76
W3642 42″ High Double Door Wall 251.67
W4242 42″ High Double Door Wall w/ Center Stile 282.91
WBC3042 42″ High Blind Wall 208.05
WBC3642 42″ High Blind Wall 242.83
WDC2442 42″ High Corner Wall 245.19
WDC2742 42″ High Corner Wall 261.69
WMC303318 Wall Microwave Cabinet 211.59
WMC303918 Wall Microwave Cabinet 229.27
WMC304518 Wall Microwave Cabinet 240.47
WR3018 Wine Rack 146.17
B09 Single Door Full Height Base 104.91
B12 Single Door Standard Base 130.25
B15 Single Door Standard Base 147.94
B18 Single Door Standard Base 162.67
B21 Single Door Standard Base 176.82
B24-SD Single Door Standard Base 192.73
B27 Double Door Standard Base 226.91
B30 Double Door Standard Base 244.01
B33 Double Door Standard Base 261.1
B36 Double Door Standard Base 274.66
B42 Double Door Standard Base w/ Center Stile 306.48
DB12 Drawer Base 199.8
DB15 Drawer Base 216.9
DB18 Drawer Base 232.81
DB24 Drawer Base 265.22
DB30 Drawer Base 334.18
DB36 Drawer Base 375.44
SB30 Sink Base 180.35
SB33 Sink Base 180.35
SB36 Sink Base 192.73
SB42 Sink Base w/ Center Stile 218.07
CSF42 Corner Sink Front 93.71
CSF42-FLOOR Corner Sink Front Floor 12.97
BBC36 Blind Base 215.72
BBC42 Blind Base 251.08
BBC48 Blind Base 287.03
EZR36 Easy Reach 293.52
DDB18 Desk Drawer Base 200.98
WP1884 Single Door Pantry 355.4
WP1890 Single Door Pantry 389
WP1896 Single Door Pantry 420.23
WP2484 Double Door Pantry 439.68
WP2490 Double Door Pantry 475.05
WP2496 Double Door Pantry 509.82
OC3384 Oven Cabinet 575.83
OC3390 Oven Cabinet 605.89
OC3396 Oven Cabinet 647.15
OP3333 Oven Cabinet Overlay Panel 64.83
OP3348 Oven Cabinet Overlay Panel 68.96
OP3353 Oven Cabinet Overlay Panel 73.08
OP3362 Oven Cabinet Overlay Panel 77.8
OCD337 Oven Cabinet Drawer 156.78
V24-1 Single Door Vanity 134.38
VB30 Double Door Vanity 162.08
VB36 Double Door Vanity 190.96
VB42 Double Door Vanity w/ Center Stile 217.48
VD12 Vanity Drawer Base 191.55
VD15 Vanity Drawer Base 207.46
VBTD36 Vanity Sink Base 237.52
VBTD42 Vanity Sink Base 261.1
VBTD48 Vanity Sink Base 302.36
DSK24 Vanity Drawer 76.62
TK8 Toe Kick 9.43
SM8 Scribe 12.97
QTR8 Shoe Molding 10.61
FBM8 Furniture Base Molding 55.4
CM8 Traditional Crown Molding 39.49
CM8-C Large Crown Molding 79.57
OCM8 Outside Corner Molding 14.73
PNL4X8 Back Panel – Long Grain 109.63
PNL8X4 Back Panel – Short Grain 109.63
BEP3 Dishwasher End Panel 46.56
REP96 Tall End Panel (Refrigerator Panel) 130.25
WF396 Filler 31.24
WF696 Filler 62.48
WF396W Fluted Filler 57.17
AFF330 Angled Fluted Filler 30.06
CORSM Corbels 22.4
VAL31 Furniture Valance 35.95
VAL37 Furniture Valance 39.49
VAL43 Furniture Valance 43.03
ROT15 Roll Out Tray 42.5
ROT18 Roll Out Tray 46.37
ROT21 Roll Out Tray 48.94
ROT24 Roll Out Tray 52.81
ROT27 Roll Out Tray 56.67
ROT30 Roll Out Tray 59.25
ROT36 Roll Out Tray 64.4
LSK Lazy Susan Kit 144.26
TCCK181 Trash Can Insert for B18 70.84
TCCK182 Trash Can Insert for B18 81.14
SRI9 Spice Rack Insert 57.96
CDI14 Cutlery Drawer Insert 32.2
CDI20 Cutlery Drawer Insert 45.08
SRD12 Spice Rack Door Attachment 46.37
SRD15 Spice Rack Door Attachment 54.1
STI14 Spice Tray Insert 36.06
STI20 Spice Tray Insert 46.37
SHELF1296 Shelf (Natural) 32.2
SHELF2496 Shelf (Natural) 64.4
tuk Touch Up Kit 12.88
PAB Assembly Blocks 6.44
DAMPER Door Damper 289.8
SOFTCLOSE Soft Close Hinge 1.61
RV-3072-18-11-52 18″ Value Line Full Circle Lazy Susan Set, Individual Pack 40.06
RV-3073-18-11-531 18″ Value Line Full Circle Lazy Susan 3-Tray Set (for 33-41) 59.38
RV-3073-18-11-536 18″ Value Line Full Circle Lazy Susan 3-Tray Set (for 38-46) 63.79
RV-3072-20-11-52 20″ Value Line Full Circle Lazy Susan Set, Individual Pack 46.69
RV-3073-20-11-531 20″ Value Line Full Circle Lazy Susan 3-Tray Set (for 33-41) 69.1
RV-3073-20-11-536 20″ Value Line Full Circle Lazy Susan 3-Tray Set (for 38-46) 73.39
RV-LD-4BW-001-18SB-1 18″ LD Banded Wood Full Circle Trays W/Steel Bearing 1 Per 39.77
RV-LD-4BW-001-20SB-1 20″ LD Banded Wood Full Circle Trays W/Steel Bearing 1 Per 41.09
RV-4WLS882-32-570 32″ Half Moon Wood Lazy Susan -2 Shelf Set w/ Hardware 230.94
RV-4WLS882-35-570 35″ Half Moon Wood Lazy Susan -2 Shelf Set w/ Hardware 265.3
RV-4WLS882-38-570 38″ Half Moon Wood Lazy Susan -2 Shelf Set w/ Hardware 304.78
RV-5PSP-15-CR Blind Corner Optimizer – Unhanded 360.25
RV-432-BF-3C 3″ Base Filler Pull-Out with Adjustable Shelves 103.47
RV-432-BF-6C 6″ Base Filler Pull-Out with Adjustable Shelves 124.59
RV-432-BFSC-3C 3″ base filler with Blumotion soft-close 159.97
RV-432-BFSC-6C 6″ base filler with Blumotion soft-close 187.15
RV-432-WF-3C 3″ Wall Filler Pull-Out with Adjustable Shelves 95.05
RV-432-WF36-3C 3″ Wall Filler Pull-Out with Adjustable Shelves -36″ Height 103.36
RV-432-WF36-6C 6″ Wall Filler Pull-Out with Adjustable Shelves -36″ Height 127
RV-432-WF42-3C 3″ Wall Filler Pull-Out with Adjustable Shelves -42″ Height 110
RV-432-WF42-6C 6″ Wall Filler Pull-Out with Adjustable Shelves -42″ Height 133.54
RV-447-BC-5C 5″ Tray Divider/Foil & Wrap Base Organizer 121.5
RV-448-BCSC-5C 5″ Base Organizer with Blum soft-close slides 180.71
RV-4DPS-2421 Small Drawer Peg System 43.7
RV-4DPS-3021 Medium Drawer Peg System 53.13
RV-4DPS-3921 Large Drawer Peg System 68.65
RV-544-10C-1 Removable under sink caddy with chrome basket 55
RV-563-51-C 2 Prong Towel Bar 13.18
RV-6572-11-11-52 11″ Tip Out Trays – 2 Hinges 18.03
RV-6572-14-11-52 14″ Tip Out Trays – 2 Hinges 18.23
RV-SBDT-2730-A-1 Undersink Drip Tray 27/30″ 33.81
RV-SBDT-3336-A-1 Undersink Drip Tray 36/33″ 37.65
RV-SBDT-3942-A-1 Undersink Drip Tray 39/42″ 41.47
RV-597-12CR-52 12″ High Tray Dividers 8.69
RV-597-18CR-52 18″ High Tray Dividers 9.14
RV-HPRV-1520 S Hamper Bottom Mount Wire w/ Polymer Bin for Bathroom/Vanity 93.77
RV-CTOHB-16-I-1 Acc CTOHT Series Hamper Cloth Inserts for Closet – 16″ Wide 22.32
RV-CTOHB-21-I-1 Acc CTOHT Series Hamper Cloth Inserts for Closet 21″ Wide 24.47
RV-35 35 Qt Trash Can 12.82
RV-50 50 Qt Trash Can 23.12
| | | | |
| --- | --- | --- | --- |
| Bermuda SAMPLE DOOR | 25.00 | | (approx 12×12 door only) refundable* |