Chestnut RTA Cabinets  –
The Chestnut is a beautiful  Brown stained American Maple with dark accent lines. The door's are a stylish pillow  frame with a raised center panel, FULL OVERLAY (1/4″ reveal) design with a TRADITIONAL decor and sturdy mitered door frame construction. The drawer faces are a matching 5 PIECE and the drawer boxes are Solid Wood sides with plywood bottom panel using dovetailedT joints and soft close hardware.
The Chestnut
Maple ships from SC with a typical processing time of 48 hours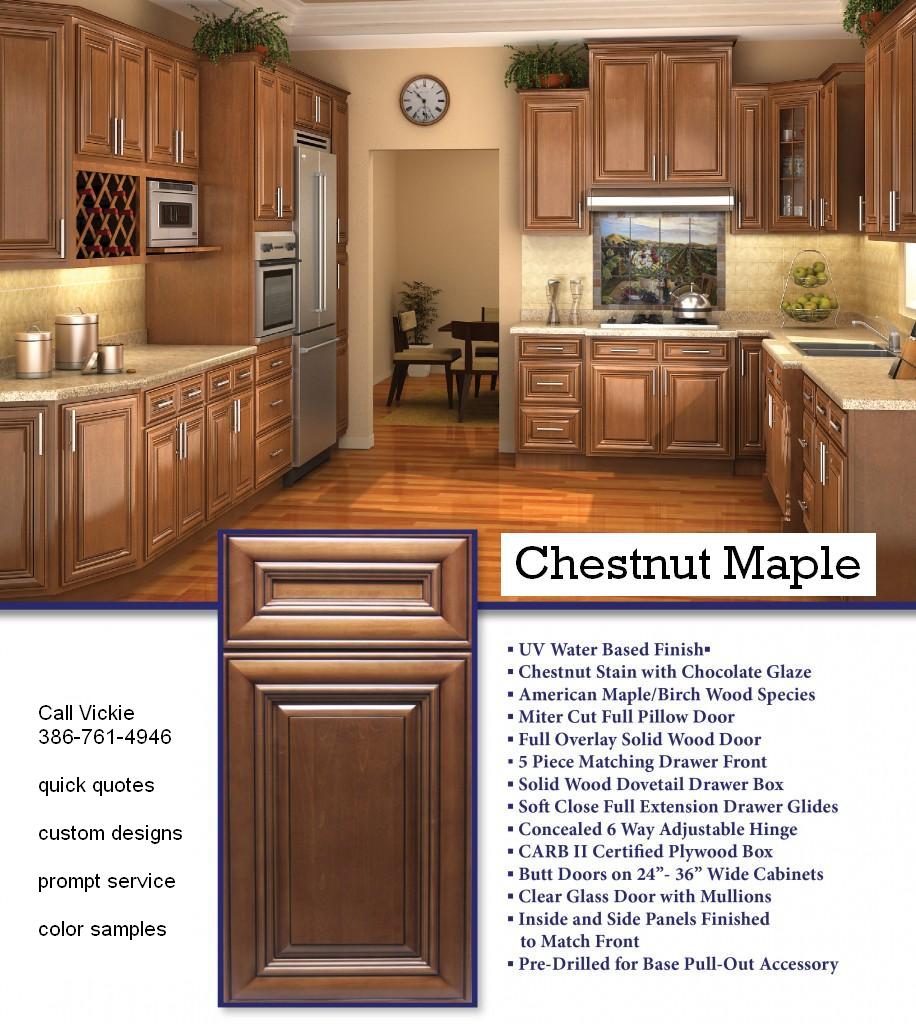 Free Freight Included in these prices (most US addresses lower 48 – Minimum Purchase Required) – Sales Tax is charged on FL destinations only (resale certificate exceptions). Cabinets will only be shipped to verified and confirmed paypal/credit card address.
Pre-arranged customer pick ups or "customer handled" commercial pick ups available.
Prices, Specifications and Availability subject to change without notice. If you have any questions please call 386-761-4946
| | | | |
| --- | --- | --- | --- |
| | $usd$ | | |
| AW30 ChestnutMaple- | 164.96 | | ChestnutMaple Triangle End Cabinet – 17″ x 12″ x 12″ x 30″H – 1 Door 25LBS |
| AW36 ChestnutMaple- | 205.74 | | ChestnutMaple Triangle End Cabinet – 17″ x 12″ x 12″ x 36″H – 1 Door 30LBS |
| AW42 ChestnutMaple- | 241.02 | [wp_cart:CM-AW42:price:241.02x | ChestnutMaple Triangle End Cabinet – 17″ x 12″ x 12″ x 42″H – 1 Door 35LBS |
| W0930 ChestnutMaple- | 100.81 | | ChestnutMaple 9″W x 12″D x 30″H – 1 Door 15.4LBS |
| W0936 ChestnutMaple- | 127.84 | | ChestnutMaple 9″W x 12″D x 36″H – 1 Door 18.5LBS |
| W0942 ChestnutMaple- | 140.67 | | ChestnutMaple 9″W x 12″D x 42″H – 1 Door 24.2LBS |
| W1230 ChestnutMaple- | 111.81 | | ChestnutMaple 12″W x 12″D x 30″H – 1 Door 22LBS |
| W1236 ChestnutMaple- | 135.17 | | ChestnutMaple 12″W x 12″D x 36″H – 1 Door 26.4LBS |
| W1242 ChestnutMaple- | 148.92 | | ChestnutMaple 12″W x 12″D x 42″H – 1 Door 28.6LBS |
| W1530 ChestnutMaple- | 122.34 | | ChestnutMaple 15″W x 12″D x 30″H – 1 Door 28LBS |
| W1530GD ChestnutMaple- | 65.98 | | ChestnutMaple Glass Door ONLY – For W1530 9LBS |
| W1536 ChestnutMaple- | 146.63 | | ChestnutMaple 15″W x 12″D x 36″H – 1 Door 33.6LBS |
| W1536GD ChestnutMaple- | 78.36 | | ChestnutMaple Glass Door ONLY – For W1536 10LBS |
| W1542 ChestnutMaple- | 162.21 | | ChestnutMaple 15″W x 12″D x 42″H – 1 Door 33LBS |
| W1542GD ChestnutMaple- | 92.1 | | ChestnutMaple Glass Door ONLY – For W1542 11LBS |
| W1830 ChestnutMaple- | 135.17 | | ChestnutMaple 18″W x 12″D x 30″H – 1 Door 31LBS |
| W1830GD ChestnutMaple- | 87.06 | | ChestnutMaple Glass Door ONLY – For W1830 10LBS |
| W1836 ChestnutMaple- | 162.67 | | ChestnutMaple 18″W x 12″D x 36″H – 1 Door 37.2LBS |
| W1836GD ChestnutMaple- | 104.47 | | ChestnutMaple Glass Door ONLY – For W1836 11LBS |
| W1842 ChestnutMaple- | 180.08 | | ChestnutMaple 18″W x 12″D x 42″H – 1 Door 37.4LBS |
| W1842GD ChestnutMaple- | 121.43 | | ChestnutMaple Glass Door ONLY – For W1842 12LBS |
| W2130 ChestnutMaple- | 162.67 | | ChestnutMaple 21″W x 12″D x 30″H – 1 Door 33LBS |
| W2136 ChestnutMaple- | 194.74 | | ChestnutMaple 21″W x 12″D x 36″H – 1 Door 39.6LBS |
| W2142 ChestnutMaple- | 216.28 | | ChestnutMaple 21″W x 12″D x 42″H – 1 Door 41.8LBS |
| W2418 ChestnutMaple- | 122.34 | | ChestnutMaple 24″W x 12″D x 18″H – 2 Doors 24LBS |
| W2424 ChestnutMaple- | 156.25 | | ChestnutMaple 24″W x 12″D x 24″H – 2 Doors 30.8LBS |
| W2430 ChestnutMaple- | 175.04 | | ChestnutMaple 24″W x 12″D x 30″H – 2 Doors 40LBS |
| W2436 ChestnutMaple- | 208.49 | | ChestnutMaple 24″W x 12″D x 36″H – 2 Doors 48LBS |
| W2442 ChestnutMaple- | 232.78 | | ChestnutMaple 24″W x 12″D x 42″H – 2 Doors 46LBS |
| W2730 ChestnutMaple- | 190.62 | | ChestnutMaple 27″W x 12″D x 30″H – 2 Doors 44LBS |
| W2736 ChestnutMaple- | 235.98 | | ChestnutMaple 27″W x 12″D x 36″H – 2 Doors 52.8LBS |
| W2742 ChestnutMaple- | 271.72 | | ChestnutMaple 27″W x 12″D x 42″H – 2 Doors 51LBS |
| W3012 ChestnutMaple- | 113.18 | | ChestnutMaple 30″W x 12″D x 12″H – 2 Doors 20LBS |
| W3015 ChestnutMaple- | 126.93 | | ChestnutMaple 30″W x 12″D x 15″H – 2 Doors 24.2LBS |
| W3018 ChestnutMaple- | 140.22 | | ChestnutMaple 30″W x 12″D x 18″H – 2 Doors 30LBS |
| W3018WR ChestnutMaple- | 160.38 | | ChestnutMaple Wine Rack – 30″W x 12″D x 18″H 22LBS |
| W3024 ChestnutMaple- | 175.96 | | ChestnutMaple 30″W x 12″D x 24″H – 2 Doors 36LBS |
| W3030 ChestnutMaple- | 197.03 | | ChestnutMaple 30″W x 12″D x 30″H – 2 Doors 49LBS |
| W3030GD ChestnutMaple- | 134.26 | | ChestnutMaple Glass Door ONLY – For W3030 (SET OF 2 DOORS) 18LBS |
| W3036 ChestnutMaple- | 254.77 | | ChestnutMaple 30″W x 12″D x 36″H – 2 Doors 58.8LBS |
| W3036GD ChestnutMaple- | 152.13 | | ChestnutMaple Glass Door ONLY – For W3036 (SET OF 2 DOORS) 19LBS |
| W3042 ChestnutMaple- | 301.05 | | ChestnutMaple 30″W x 12″D x 42″H – 2 Doors 55LBS |
| W3042GD ChestnutMaple- | 187.87 | | ChestnutMaple Glass Door ONLY – For W3042 (SET 0F 2 DOORS) 20LBS |
| W3312 ChestnutMaple- | 120.51 | | ChestnutMaple 33″W x 12″D x 12″H – 2 Doors 22LBS |
| W3315 ChestnutMaple- | 137.47 | | ChestnutMaple 33″W x 12″D x 15″H – 2 Doors 26.4LBS |
| W3318 ChestnutMaple- | 148.92 | | ChestnutMaple 33″W x 12″D x 18″H – 2 Doors 30.8LBS |
| W3324 ChestnutMaple- | 187.87 | | ChestnutMaple 33″W x 12″D x 24″H – 2 Doors 38LBS |
| W3330 ChestnutMaple- | 211.7 | | ChestnutMaple 33″W x 12″D x 30″H – 2 Doors 51LBS |
| W3336 ChestnutMaple- | 270.81 | | ChestnutMaple 33″W x 12″D x 360″H – 2 Doors 61.2LBS |
| W3342 ChestnutMaple- | 317.09 | | ChestnutMaple 33″W x 12″D x 42″H – 2 Doors 60LBS |
| W3612 ChestnutMaple- | 126.93 | | ChestnutMaple 36″W x 12″D x 12″H – 2 Doors 25LBS |
| W361224 ChestnutMaple- | 171.83 | | ChestnutMaple 36″W x 24″D x 12″H – 2 Doors 35LBS |
| W3615 ChestnutMaple- | 140.22 | | ChestnutMaple 36″W x 12″D x 15″H – 2 Doors 29LBS |
| W361524 ChestnutMaple- | 190.62 | | ChestnutMaple 36″W x 24″D x 15″H – 2 Doors 35LBS |
| W3618 ChestnutMaple- | 158.54 | | ChestnutMaple 36″W x 12″D x 18″H – 2 Doors 34LBS |
| W361824 ChestnutMaple- | 216.28 | | ChestnutMaple 36″W x 24″D x 18″H – 2 Doors 44LBS |
| W3624 ChestnutMaple- | 201.16 | | ChestnutMaple 36″W x 12″D x 24″H – 2 Doors 38LBS |
| W362424 ChestnutMaple- | 235.98 | | ChestnutMaple 36″W x 24″D x 24″H – 2 Doors 53LBS |
| W3630 ChestnutMaple- | 226.36 | | ChestnutMaple 36″W x 12″D x 30″H – 2 Doors 53LBS |
| W3636 ChestnutMaple- | 283.18 | | ChestnutMaple 36″W x 12″D x 36″H – 2 Doors 63.6LBS |
| W3642 ChestnutMaple- | 338.62 | | ChestnutMaple 36″W x 12″D x 42″H – 2 Doors 64LBS |
| W4230 ChestnutMaple- | 272.64 | | ChestnutMaple 42″W x 12″D x 30″H – 2 Doors 62LBS |
| WBC2730-30L ChestnutMaple- | 225.9 | | ChestnutMaple 27″W x 24″D x 30″H – 1 Door, Pull 27″ – 30″ 34LBS |
| WBC2730-30R ChestnutMaple- | 225.9 | | ChestnutMaple 27″W x 24″D x 30″H – 1 Door, Pull 27″ – 30″ 34LBS |
| WBC2730-36L ChestnutMaple- | 254.77 | | ChestnutMaple 27″W x 24″D x 36″H – 1 Door, Pull 27″ – 30″ 38LBS |
| WBC2730-36R ChestnutMaple- | 254.77 | | ChestnutMaple 27″W x 24″D x 36″H – 1 Door, Pull 27″ – 30″ 38LBS |
| WBC2730-42L ChestnutMaple- | 293.72 | | ChestnutMaple 27″W x 24″D x 42″H – 1 Door, Pull 27″ – 30″ 42LBS |
| WBC2730-42R ChestnutMaple- | 293.72 | | ChestnutMaple 27″W x 24″D x 42″H – 1 Door, Pull 27″ – 30″ 42LBS |
| WDC2430 ChestnutMaple- | 251.56 | | ChestnutMaple Diagonal Corner – 24″W x 12″D x 30″H – 1 Door 40LBS |
| WDC2430GD ChestnutMaple- | 71.02 | | ChestnutMaple Glass Door ONLY – For WDC2430 9LBS |
| WDC2436 ChestnutMaple- | 314.8 | | ChestnutMaple Diagonal Corner – 24″W x 12″D x 36″H – 1 Door 50LBS |
| WDC2436GD ChestnutMaple- | 84.77 | | ChestnutMaple Glass Door ONLY – For WDC2436 9LBS |
| WDC2442 ChestnutMaple- | 334.5 | | ChestnutMaple Diagonal Corner – 24″W x 12″D x 42″H – 1 Door 55LBS |
| WDC2442GD ChestnutMaple- | 99.43 | | ChestnutMaple Glass Door ONLY – For WDC2442 14LBS |
| WES530 ChestnutMaple- | 73.32 | | ChestnutMaple End Shelf – 11-1/4″W x 5″D x 30″H x 1/8″T – 2 shelves 10LBS |
| WES536 ChestnutMaple- | 87.98 | | ChestnutMaple End Shelf – 11-1/4″W x 5″D x 36″H x 1/8″T – 2 shelves 11LBS |
| WES542 ChestnutMaple- | 103.56 | | ChestnutMaple End Shelf – 11-1/4″W x 5″D x 42″H x 1/8″T – 2 shelves 12LBS |
| AB24 ChestnutMaple- | 435.31 | | ChestnutMaple 18-1/2″ x 18-1/2″ x 24″ Base Angle – 2 Doors, 1 Shelf 62LBS |
| B09 ChestnutMaple- | 170 | | ChestnutMaple 9″W x 24″D x 34-1/2″H – 1 Door 1 Drawer 33LBS |
| B12 ChestnutMaple- | 191.99 | | ChestnutMaple 12″W x 24″D x 34-1/2″H – 1 Door 1 Drawer 37.4LBS |
| B15 ChestnutMaple- | 200.24 | | ChestnutMaple 15″W x 24″D x 34-1/2″H – 1 Door 1 Drawer 41.8LBS |
| B18 ChestnutMaple- | 209.86 | | ChestnutMaple 18″W x 24″D x 34-1/2″H – 1 Door 1 Drawer 46.2LBS |
| B21 ChestnutMaple- | 236.9 | | ChestnutMaple 21″W x 24″D x 34-1/2″H – 1 Door 1 Drawer 50.6LBS |
| B24 ChestnutMaple- | 253.85 | | ChestnutMaple 24″W x 24″D x 34-1/2″H – 2 Doors 1 Drawer 55LBS |
| B27 ChestnutMaple- | 273.56 | | ChestnutMaple 27″W x 24″D x 34-1/2″H – 2 Doors 1 Drawer 61.6LBS |
| B30 ChestnutMaple- | 322.13 | | ChestnutMaple 30″W x 24″D x 34-1/2″H – 2 Doors 2 Drawers 66LBS |
| B33 ChestnutMaple- | 336.79 | | ChestnutMaple 33″W x 24″D x 34-1/2″H – 2 Doors 2 Drawers 70.4LBS |
| B36 ChestnutMaple- | 350.54 | | ChestnutMaple 36″W x 24″D x 34-1/2″H – 2 Doors 2 Drawers 74.8LBS |
| B42 ChestnutMaple- | 411.48 | | ChestnutMaple 42″W x 24″D x 34-1/2″H – 2 Doors 2 Drawers 80LBS |
| BBL36 ChestnutMaple- | 337.71 | | ChestnutMaple 27″W x 24″ D x 34-1/2″H – 1 Door 1 Header 56LBS |
| BBL42 ChestnutMaple- | 379.41 | | ChestnutMaple 39″W x 24″ D x 34-1/2″H – 1 Door 1 Header 60LBS |
| csf36 ChestnutMaple- | 137.47 | | ChestnutMaple Base Diagonal Corner Frame and Kicker – 18″W x 34-1/2″H – 1 Door + Bottom Panel 42LBS |
| DB12 ChestnutMaple- | 340.92 | | ChestnutMaple Drawer Pack – 12″W x 24″D x 34-1/2″H – 3 Drawers 39.6LBS |
| DB15 ChestnutMaple- | 355.58 | | ChestnutMaple Drawer Pack – 15″W x 24″D x 34-1/2″H – 3 Drawers 44LBS |
| DB18 ChestnutMaple- | 364.28 | | ChestnutMaple Drawer Pack – 18″W x 24″D x 34-1/2″H – 3 Drawers 48.4LBS |
| DB21 ChestnutMaple- | 369.78 | | ChestnutMaple Drawer Pack – 21″W x 24″D x 34-1/2″H – 3 Drawers 52.8LBS |
| DB24 ChestnutMaple- | 392.69 | | ChestnutMaple Drawer Pack – 24″W x 24″D x 34-1/2″H – 3 Drawers 57.2LBS |
| DB30 ChestnutMaple- | 619.51 | | ChestnutMaple Drawer Pack – 30″W x 24″D x 34-1/2″H – 3 Drawers 88LBS |
| DB36 ChestnutMaple- | 640.13 | | ChestnutMaple Drawer Pack – 36″W x 24″D x 34-1/2″H – 3 Drawers 97LBS |
| LS3309 ChestnutMaple- | 454.55 | | ChestnutMaple Lazy Susan – 33″W x 34-1/2″H – 1 Bi-fold Door & 2 revolving shelves 74LBS |
| LS3612 ChestnutMaple- | 491.21 | | ChestnutMaple Lazy Susan – 36″W x 34-1/2″H – 1 Bi-fold Door & 2 revolving shelves 76LBS |
| SB27 ChestnutMaple- | 246.52 | | ChestnutMaple 27″W x 24″D x 34-1/2″H – 2 Doors 1 Header 48.4LBS |
| SB30 ChestnutMaple- | 255.69 | | ChestnutMaple 30″W x 24″D x 34-1/2″H – 2 Doors 2 Headers 52.8LBS |
| SB33 ChestnutMaple- | 265.31 | | ChestnutMaple 33″W x 24″D x 34-1/2″H – 2 Doors 2 Headers 57.2LBS |
| SB36 ChestnutMaple- | 274.02 | | ChestnutMaple 36″W x 24″D x 34-1/2″H – 2 Doors 2 Headers 61.6LBS |
| SB42 ChestnutMaple- | 285.93 | | ChestnutMaple 42″W x 24″D x 34-1/2″H – 2 Doors 2 Headers 70.4LBS |
| w3018mw ChestnutMaple- | 136.09 | | ChestnutMaple Microwave Oven – 30″W x 12″D x 18″H 30LBS |
| OC3384 ChestnutMaple- | 937.52 | | ChestnutMaple Oven Cabinet – 33″W x 24″D x 84″H 101LBS |
| OC3390 ChestnutMaple- | 1011.29 | | ChestnutMaple Oven Cabinet – 33″W x 24″D x 90″H 106LBS |
| OC3396 ChestnutMaple- | 1079.11 | | ChestnutMaple Oven Cabinet – 33″W x 24″D x 96″H 111LBS |
| WP1884 ChestnutMaple- | 565.9 | | ChestnutMaple 18″W x 24″D x 84″H – 2 Doors-lr 103.4LBS |
| WP1890 ChestnutMaple- | 608.52 | | ChestnutMaple 18″W x 24″D x 90″H – 2 Doors-lr 108LBS |
| WP1896 ChestnutMaple- | 650.67 | | ChestnutMaple 18″W x 24″D x 96″H – 2 Doors-lr 112.2LBS |
| WP2484 ChestnutMaple- | 709.32 | | ChestnutMaple 24″W x 24″D x 84″H – 4 Doors 116.6LBS |
| WP2490 ChestnutMaple- | 762.93 | | ChestnutMaple 24″W x 24″D x 90″H – 4 Doors 120LBS |
| WP2496 ChestnutMaple- | 816.55 | | ChestnutMaple 24″W x 24″D x 96″H – 4 Doors 125.4LBS |
| pnl4x3bb ChestnutMaple- | 129.68 | | ChestnutMaple Bead Board 48″ x 34 1/2″ x 1/4″T 20LBS |
| bep3 ChestnutMaple- | 65.07 | | ChestnutMaple Dishwasher Panel – 24″ x 34-1/2″ x 5/8″ x 3″ return 8LBS |
| pnl4x8 ChestnutMaple- | 137.47 | | ChestnutMaple Finish Back Panels – 48″ x 96″ x 1/4″ (1 side finished) 30LBS |
| REP2484 ChestnutMaple- | 170 | | ChestnutMaple Refrigerator End Panel – 24″ x 84″ x 1/2″T 20LBS |
| rep84 ChestnutMaple- | 197.03 | | ChestnutMaple Refrigerator End Panel – 24″ x 84″ x 3″ return 20LBS |
| REP2496 ChestnutMaple- | 194.74 | | ChestnutMaple Refrigerator End Panel – 24″ x 96″ x 1/2″T 22LBS |
| rep96 ChestnutMaple- | 235.07 | | ChestnutMaple Refrigerator End Panel – 24″ x 96″ x 3″ return 22LBS |
| wf336 ChestnutMaple- | 21.99 | | ChestnutMaple Wall Filler – 3″ x 36″ x 3/4″T 5LBS |
| wf342 ChestnutMaple- | 27.95 | | ChestnutMaple Wall Filler – 3″ x 42″ x 3/4″T 5LBS |
| wf384 ChestnutMaple- | 51.32 | | ChestnutMaple Wall Filler – 3″ x 84″ x 3/4″T 6LBS |
| wf396 ChestnutMaple- | 60.48 | | ChestnutMaple Wall Filler – 3″ x 96″ x 3/4″T 6LBS |
| wf3 ChestnutMaple- | 18.33 | | ChestnutMaple Wall Filler – 3″ x 30″ x 3/4″T 4LBS |
| wf642 ChestnutMaple- | 54.07 | | ChestnutMaple Wall Filler – 6″ x 42″ x 3/4″T 8LBS |
| wf696 ChestnutMaple- | 118.22 | | ChestnutMaple Wall Filler – 6″ x 96″ x 3/4″T 15LBS |
| wf6 ChestnutMaple- | 36.66 | | ChestnutMaple Wall Filler – 6″ x 30″ x 3/4″T 6LBS |
| wf324f ChestnutMaple- | 24.74 | | ChestnutMaple Décor Wall Filler – 3″ x 24″ 3LBS |
| wf330f ChestnutMaple- | 29.33 | | ChestnutMaple Décor Wall Filler – 3″ x 30″ 3LBS |
| wf336f ChestnutMaple- | 36.66 | | ChestnutMaple Décor Wall Filler – 3″ x 36″ 4LBS |
| wf342f ChestnutMaple- | 41.7 | | ChestnutMaple Décor Wall Filler – 3″ x 42″ 5LBS |
| bf3 ChestnutMaple- | 29.33 | | ChestnutMaple Base Filler – 3″ x 34-1/2″ x 3/4″ 4LBS |
| bf6 ChestnutMaple- | 49.95 | | ChestnutMaple Base Filler – 6″ x 34-1/2 x 3/4″ 7LBS |
| bf3f ChestnutMaple- | 39.87 | | ChestnutMaple Décor Base Filler – 3″ x 34-1/2″ 4LBS |
| fbm8 ChestnutMaple- | 94.39 | | ChestnutMaple Base Molding 4 1/2″H x 5/8″T x 96″L 8LBS |
| cm8 ChestnutMaple- | 60.48 | | ChestnutMaple Crown Molding – 96″ X 2-1/2″ 4LBS |
| cm8-4 ChestnutMaple- | 97.14 | | ChestnutMaple Crown Molding – 96″ X 4″ 8LBS |
| cm8-c ChestnutMaple- | 132.88 | | ChestnutMaple Crown Molding – 96″ x 4 1/2″ (with rope insert) 8LBS |
| cm8-d ChestnutMaple- | 140.67 | | ChestnutMaple Crown Molding – 96″ x 4 1/2″ (with dentil insert) 8LBS |
| LRM8 ChestnutMaple- | 65.98 | | ChestnutMaple Under wall cabinet Molding – 96″ x 1-1/2″ x 1″ currently 6′ 5LBS |
| sm8 ChestnutMaple- | 13.75 | | ChestnutMaple Molding – 3/4″W x 96″L x 1/4″T – 1 side bull nose currently 6′ 4LBS |
| isc8 ChestnutMaple- | 24.74 | | ChestnutMaple Inside Corner Molding – 3/4″W 3/4″W x 96″L currently 6′ 4LBS |
| ocm8 ChestnutMaple- | 18.33 | | ChestnutMaple Outside Corner Molding 3/4 x 3/4 x 96L x 1/4T currently 6'lengths 4LBS |
| TK8 ChestnutMaple- | 39.87 | | ChestnutMaple 8′ Toe Kick 4LBS |
| TLRM8 ChestnutMaple- | 161.29 | | ChestnutMaple Under Wall Cabinet Molding – 96″ x 1-1/2″ x 2 1/4″ 8LBS |
| val48 ChestnutMaple- | 0 | | ChestnutMaple use filler 8LBS |
| CORBEL54 ChestnutMaple- | 54.07 | | ChestnutMaple Corbel (Block) 6″ H X 4″ 4LBS |
| 15RT ChestnutMaple- | 42.16 | | ChestnutMaple Roll-out Tray – 15″W (hardware Included) 8LBS |
| 18RT ChestnutMaple- | 48.57 | | ChestnutMaple Roll-out Tray – 18″W (hardware Included) 8LBS |
| 24RT ChestnutMaple- | 68.73 | | ChestnutMaple Roll-out Tray – 24″W (hardware Included) 9LBS |
| 30RT ChestnutMaple- | 80.19 | | ChestnutMaple Roll-out Tray – 30″W (hardware included) 9LBS |
| 36RT ChestnutMaple- | 84.77 | | ChestnutMaple Roll-out Tray – 36″W (hardware Included) 10LBS |
| tuk ChestnutMaple- | 14.2 | | ChestnutMaple Touch Up Kit 2LBS |
| tp3 ChestnutMaple- | 168.62 | | ChestnutMaple 1/2Decor Leg 3″ x 3″ x 34-1/2″H with blocked filler 6LBS |
| bdep ChestnutMaple- | 157.17 | | ChestnutMaple Door Only – Base End Door for 34 1/2″H 11LBS |
| wdep30 ChestnutMaple- | 61.86 | | ChestnutMaple Door Only – Wall End Door for 30″H 8LBS |
| wdep36 ChestnutMaple- | 75.61 | | ChestnutMaple Door Only – Wall End Door for 36″H 9LBS |
| wdep42 ChestnutMaple- | 90.27 | | ChestnutMaple Door Only – Wall End Door for 42″H 10LBS |
| REP3096 ChestnutMaple- | 349.71 | | ChestnutMaple refrig end panel w 3inch face 40LBS |
| PNL4X8 ChestnutMaple- | 151.3 | | ChestnutMaple 1/4inch panel 4×8 long grain 30LBS |
| PNL4X3 ChestnutMaple- | 53.52 | | ChestnutMaple 1/2inch back panel 4×34.5 14LBS |
| PNL8X3 ChestnutMaple- | 117.75 | | ChestnutMaple 1/2inch back panel 8×34.6 25LBS |
| PNL4X3BB ChestnutMaple- | 142.02 | | ChestnutMaple 1/4inch panel 4×34.5 20LBS |
| CM8-A ChestnutMaple- | 132.03 | | ChestnutMaple standard 4.25 crown flat for shaker 94.5 long 8LBS |
| LEG84 ChestnutMaple- | 199.12 | | ChestnutMaple leg3Wx34.5Hx0D 8LBS |
| OCM8 ChestnutMaple- | 24.97 | | ChestnutMaple outside corner trim0.25Wx0.75Hx96D 4LBS |
| SM8 ChestnutMaple- | 18.56 | | ChestnutMaple scribe mold0.25Wx0.75Hx96D 4LBS |
| LRM8 ChestnutMaple- | 72.08 | | ChestnutMaple light rail1.5Wx1Hx96D 5LBS |
| FBM ChestnutMaple- | 102.77 | | ChestnutMaple furniture toe board4.5Wx0.5Hx96D 8LBS |
| TK8 ChestnutMaple- | 43.53 | | ChestnutMaple toe kick board4.5Wx0.5Hx96D 4LBS |
| TK8-AL ChestnutMaple- | 49.96 | | ChestnutMaple toe kick board alumn cover4.5Wx0Hx96D 6LBS |
| WF3 ChestnutMaple- | 19.26 | | ChestnutMaple filler3Wx30Hx0.75D 4LBS |
| WF336 ChestnutMaple- | 23.55 | | ChestnutMaple filler3Wx36Hx0.75D 5LBS |
| WF342 ChestnutMaple- | 29.98 | | ChestnutMaple filler3Wx42Hx0.75D 5LBS |
| WF384 ChestnutMaple- | 55.67 | | ChestnutMaple filler3Wx84Hx0.75D 6LBS |
| WF396 ChestnutMaple- | 66.37 | | ChestnutMaple filler3Wx96Hx0.75D 6LBS |
| WF6 ChestnutMaple- | 39.97 | | ChestnutMaple filler6Wx30Hx0.75D 6LBS |
| WF642 ChestnutMaple- | 59.23 | | ChestnutMaple filler6Wx42Hx0.75D 8LBS |
| WF696 ChestnutMaple- | 129.17 | | ChestnutMaple filler6Wx96Hx0.75D 15LBS |
| BF3 ChestnutMaple- | 32.11 | | ChestnutMaple base filler3Wx34.5Hx0.75D 4LBS |
| BF6 ChestnutMaple- | 54.95 | | ChestnutMaple base filler6Wx34.5Hx0.75D 7LBS |
| VB24-A ChestnutMaple- | 230.52 | | ChestnutMaple vanity sinkbase24Wx34.5Hx21D 36LBS |
| VB30-A ChestnutMaple- | 289.04 | | ChestnutMaple vanity sinkbase30Wx34.5Hx21D 42LBS |
| VB36-A ChestnutMaple- | 355.42 | | ChestnutMaple vanity sinkbase36Wx34.5Hx21D 48LBS |
| VBD30-A-L ChestnutMaple- | 436.06 | | ChestnutMaple vanity sinkbase 1door 2drawers30Wx34.5Hx21D 66LBS |
| VBD30-A-R ChestnutMaple- | 436.06 | | ChestnutMaple vanity sinkbase 1door 2drawers30Wx34.5Hx21D 66LBS |
| VBD36-A-L ChestnutMaple- | 496.74 | | ChestnutMaple vanity sinkbase 2door 2drawers36Wx34.5Hx21D 76LBS |
| VBD36-A-R ChestnutMaple- | 496.74 | | ChestnutMaple vanity sinkbase + 2drawers36Wx34.5Hx21D 76LBS |
| VD12-A ChestnutMaple- | 424.65 | | ChestnutMaple vanity 3drawer base12Wx34.5Hx21D 56LBS |
| VD15-A ChestnutMaple- | 446.06 | | ChestnutMaple vanity 3drawer base15Wx34.5Hx21D 60LBS |
| MIR2430 ChestnutMaple- | 96.34 | | ChestnutMaple med cab24Wx30HxD 25LBS |
| MIR3040 ChestnutMaple- | 131.32 | | ChestnutMaple med cab30Wx40HxD 30LBS |
| MIR3640 ChestnutMaple- | 178.43 | | ChestnutMaple med cab36Wx40HxD 35LBS |
| DSK30 ChestnutMaple- | 118.47 | | ChestnutMaple knee drawer30Wx7Hx21D 20LBS |
| csf36 ChestnutMaple- | 150.58 | | ChestnutMaple corner sink (front only) 42LBS |
| DB12 ChestnutMaple- | 420.36 | | ChestnutMaple 3drwr base 12w 24d 34.5h 39.6LBS |
| DB21 ChestnutMaple- | 455.34 | | ChestnutMaple 3drwr base 21w 24d 34.5h 52.8LBS |
| ezr36 ChestnutMaple- | 466.76 | | ChestnutMaple 36x36base corner pie cut no susan 0LBS |
| SB33 ChestnutMaple- | 289.76 | | ChestnutMaple sinkbase 2door w false drwr 57.2LBS |
| SC4 ChestnutMaple- | 29.98 | | ChestnutMaple insidecornermolding .75x.75×96 4LBS |
| W2418 ChestnutMaple- | 134.18 | | ChestnutMaple wallcab 24w 18h 24LBS |
| W2424 ChestnutMaple- | 170.57 | | ChestnutMaple wallcab 24w 24h 30.8LBS |
| W3315 ChestnutMaple- | 150.58 | | ChestnutMaple wallcab 33w 15h 26.4LBS |
| W3318 ChestnutMaple- | 162.72 | | ChestnutMaple wallcab 33w 18h 30.8LBS |
| W3324 ChestnutMaple- | 205.55 | | ChestnutMaple wallcab 33w 24h 38LBS |
| W361824 ChestnutMaple- | 237.66 | | ChestnutMaple wallcab 36w 18h 24d 44LBS |