Free Freight on orders over $2000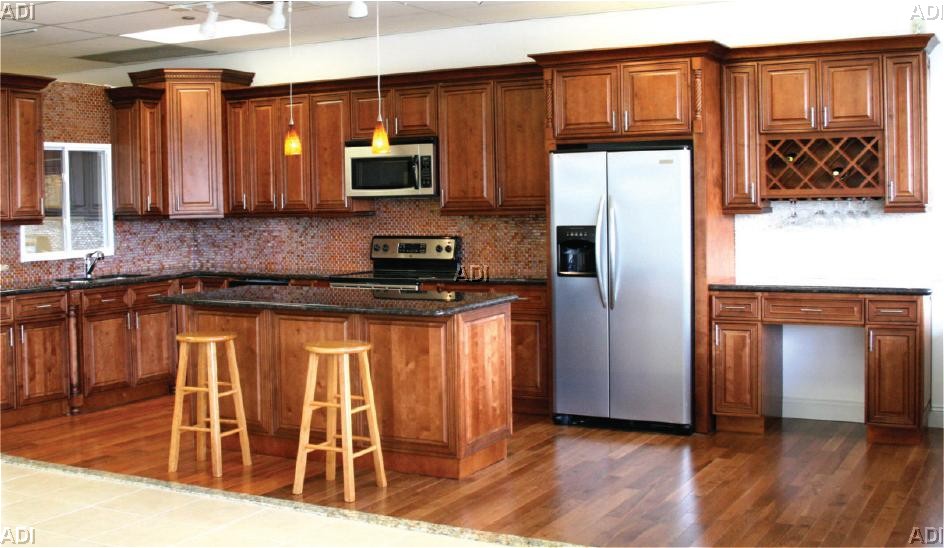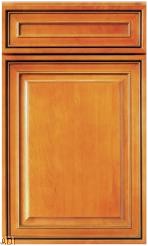 The ASHLAND is a beautiful MOCHA stained MAPLE with DARK accent lines. The door's are a stylish RAISED panel, FULL OVERLAY (1/4″ reveal) design with a CLASSIC-INTRICATE decor and sturdy MITERED CORNER door frame construction. The drawer faces are a matching 5PIECE-FLT and the drawer boxes are Solid Wood sides with plywood bottom panel using DOVETAIL joints and undermount-fullexten-softclose hardware. The ASHLAND MAPLE ships from IL with a typical processing time of 72 hours   Free Freight Included in these prices (most US addresses lower 48 – Minimum Purchase Required) – Orders of less than $1999 may have additional freight charges added.
Sales Tax is charged on FL destinations only (resale certificate exceptions). Cabinets will only be shipped to verified and confirmed paypal/credit card address.
Pre-arranged customer pick ups or "customer handled" commercial pick ups may be available.
Prices, Specifications and Availability subject to change without notice. If you have any questions please call 386-761-4946
Note: This line does not come with assembly brackets. Pin gun and glue are recommended.
| | | | |
| --- | --- | --- | --- |
| sd-ash | 25 | | SAMPLE DOORS |
| B09-ash | 129.93 | | BASE CABINET – 1 DRAWER, 1 DOOR, 1 SHELF09 X 24 X 34.5 |
| B12-ash | 152.71 | | BASE CABINET – 1 DRAWER, 1 DOOR, 1 SHELF12 X 24 X 34.5 |
| B15-ash | 178.02 | | BASE CABINET – 1 DRAWER, 1 DOOR, 1 SHELF15 X 24 X 34.5 |
| B18-ash | 192.36 | | BASE CABINET – 1 DRAWER, 1 DOOR, 1 SHELF18 X 24 X 34.5 |
| B21-ash | 218.52 | | BASE CABINET – 1 DRAWER, 1 DOOR, 1 SHELF21 X 24 X 34.5 |
| B24-ash | 242.14 | | BASE CABINET – 1 DRAWER, 2 DOORS, 1 SHELF24 X 24 X 34.5 |
| B27-ash | 282.64 | | BASE CABINET – 1 DRAWER, 2 DOORS, 1 SHELF27 X 24 X 34.5 |
| B30-ash | 323.14 | | BASE CABINET – 2 DRAWER, 2 DOORS, 1 SHELF30 X 24 X 34.5 |
| B33-ash | 339.17 | | BASE CABINET – 2 DRAWER, 2 DOORS, 1 SHELF33 X 24 X 34.5 |
| B36-ash | 378.82 | | BASE CABINET – 2 DRAWER, 2 DOORS, 1 SHELF36 X 24 X 34.5 |
| B42-ash | 450.54 | | BASE CABINET – 2 DRAWER, 2 DOORS, 1 SHELF42 X 24 X 34.5 |
| DB12-ash | 242.14 | | BASE DRAWER CABINET – 3 DRAWERS12 X 24 X 34.5 |
| DB15-ash | 269.14 | | BASE DRAWER CABINET – 3 DRAWERS15 X 24 X 34.5 |
| DB18-ash | 289.39 | | BASE DRAWER CABINET – 3 DRAWERS18 X 24 X 34.5 |
| DB21-ash | 314.7 | | BASE DRAWER CABINET – 3 DRAWERS21 X 24 X 34.5 |
| DB24-ash | 318.07 | | BASE DRAWER CABINET – 3 DRAWERS24 X 24 X 34.5 |
| DB30-ash | 380.51 | | BASE DRAWER CABINET – 3 DRAWERS30 X 24 X 34.5 |
| DB36-ash | 402.44 | | BASE DRAWER CABINET – 3 DRAWERS36 X 24 X 34.5 |
| SB30-ash | 299.51 | | SINK BASE CABINET – 2 DUMMY DRAWERS, 2 DOORS30X24X34.5 |
| SB33-ash | 318.92 | | SINK BASE CABINET – 2 DUMMY DRAWERS, 2 DOORS33X24X34.5 |
| SB36-ash | 355.2 | | SINK BASE CABINET – 2 DUMMY DRAWERS, 2 DOORS36X24X34.5 |
| SB42-ash | 430.29 | | SINK BASE CABINET – 2 DUMMY DRAWERS, 2 DOORS42X24X34.5 |
| LS3612-ash | 536.59 | | LAZY SUSAN CABINET – LAZY SUSAN, FOLDING DOORS (INCLUDES WOOD LAZY SUSAN)36X24X34.5 |
| BEC24-ash | 326.51 | | BASE END CORNER CABINET – 2 DOORS, 1 SHELF, 2 DUMMY DRAWERS24 X 24 X 34.5 |
| BBC42-ash | 367.01 | | BLIND CORNER CABINET – 1 DRAWER, 1 DOOR, 1 SHELF (NEEDS 45″ SPACE, 18″ DRAWER AND DOOR)42X24X34.5 |
| CBD36-ash | 524.78 | | CORNER LAZY SUSAN CABINET – 1 DOOR36X24X34.5 |
| CSB36-ash | 469.1 | | CORNER SINK CABINET – 1 DOOR36X24X34.5 |
| SP09-ash | 169.58 | | SPICE PULL OUT – 1 FULL HEIGHT DOOR09 X 24 X 34.5 |
| BWRC6-ash | 117.27 | | SPICE DRAWER – 5 SPICE DRAWERS06 X 24 X 34.5 |
| BWBK 18-2-ash | 221.05 | | BASE WASTE BASKET – 1 DRAWER, 1 DOOR (TRASH CAN DOES NOT INCLUDE)18 X 24 X 34.5 |
| BES09-ash | 199.96 | | BASE END SHELF – 3 SHELVES09 X 24 X 34.5 |
| W0930-ash | 97.03 | | WALL CABINET – 1 DOOR, 2 SHELVES09 X 12 X 30 |
| W0936-ash | 114.74 | | WALL CABINET – 1 DOOR, 2 SHELVES09 X 12 X 36 |
| W1230-ash | 117.27 | | WALL CABINET – 1 DOOR, 2 SHELVES12 X 12 X 30 |
| W1236-ash | 138.37 | | WALL CABINET – 1 DOOR, 2 SHELVES12 X 12 X 36 |
| W1530-ash | 141.74 | | WALL CABINET – 1 DOOR, 2 SHELVES15 X 12 X 30 |
| W1536-ash | 166.21 | | WALL CABINET – 1 DOOR, 2 SHELVES15 X 12 X 36 |
| W1830-ash | 160.3 | | WALL CABINET – 1 DOOR, 2 SHELVES18 X 12 X 30 |
| W1836-ash | 178.86 | | WALL CABINET – 1 DOOR, 2 SHELVES18 X 12 X 36 |
| W2130-ash | 178.86 | | WALL CABINET – 1 DOOR, 2 SHELVES21 X 12 X 30 |
| W2136-ash | 210.08 | | WALL CABINET – 1 DOOR, 2 SHELVES21 X 12 X 36 |
| W0942-ash | 120.65 | | WALL CABINET – 1 DOOR, 3 SHELVES09 X 12 X 42 |
| W1242-ash | 145.96 | | WALL CABINET – 1 DOOR, 3 SHELVES12 X 12 X 42 |
| W1542-ash | 176.33 | | WALL CABINET – 1 DOOR, 3 SHELVES15 X 12 X 42 |
| W1842-ash | 199.96 | | WALL CABINET – 1 DOOR, 3 SHELVES18 X 12 X 42 |
| W2142-ash | 212.61 | | WALL CABINET – 1 DOOR, 3 SHELVES21 X 12 X42 |
| W2430-ash | 224.42 | | WALL CABINET – 2 DOORS, 2 SHELVES24 X 12 X 30 |
| W2436-ash | 237.92 | | WALL CABINET – 2 DOORS, 2 SHELVES24 X 12 X 36 |
| W2730-ash | 227.8 | | WALL CABINET – 2 DOORS, 2 SHELVES27 X 12 X 30 |
| W2736-ash | 247.2 | | WALL CABINET – 2 DOORS, 2 SHELVES27 X 12 X 36 |
| W3030-ash | 248.89 | | WALL CABINET – 2 DOORS, 2 SHELVES30 X 12 X 30 |
| W3036-ash | 275.05 | | WALL CABINET – 2 DOORS, 2 SHELVES30 X 12 X 36 |
| W3330-ash | 265.77 | | WALL CABINET – 2 DOORS, 2 SHELVES33 X 12 X 30 |
| W3336-ash | 290.23 | | WALL CABINET – 2 DOORS, 2 SHELVES33 X 12 X 36 |
| W3630-ash | 279.26 | | WALL CABINET – 2 DOORS, 2 SHELVES36 X 12 X 30 |
| W3636-ash | 305.42 | | WALL CABINET – 2 DOORS, 2 SHELVES36 X 12 X 36 |
| W4230-ash | 302.04 | | WALL CABINET – 2 DOORS, 2 SHELVES42 X 12 X 30 |
| W4236-ash | 318.92 | | WALL CABINET – 2 DOORS, 2 SHELVES42 X 12 X 36 |
| W2442-ash | 245.52 | | WALL CABINET – 2 DOORS, 3 SHELVES24 X 12 X 42 |
| W2742-ash | 262.39 | | WALL CABINET – 2 DOORS, 3 SHELVES27 X 12 X 42 |
| W3042-ash | 291.08 | | WALL CABINET – 2 DOORS, 3 SHELVES30 X 12 X 42 |
| W3342-ash | 307.95 | | WALL CABINET – 2 DOORS, 3 SHELVES33 X 12 X 42 |
| W3642-ash | 323.14 | | WALL CABINET – 2 DOORS, 3 SHELVES36 X 12 X 42 |
| W4242-ash | 334.95 | | WALL CABINET – 2 DOORS, 3 SHELVES42 X 12 X 42 |
| W3012-ash | 117.27 | | WALL CABINET BRIDGE – 2 DOORS30 X 12 X 12 |
| W3015-ash | 136.68 | | WALL CABINET BRIDGE – 2 DOORS30 X 12 X 15 |
| W3018-ash | 156.08 | | WALL CABINET BRIDGE – 2 DOORS30 X 12 X 18 |
| W3612-ash | 162.83 | | WALL CABINET BRIDGE – 2 DOORS36 X 12 X 12 |
| W3615-ash | 172.11 | | WALL CABINET BRIDGE – 2 DOORS36 X 12 X 15 |
| W3618-ash | 189.83 | | WALL CABINET BRIDGE – 2 DOORS36 X 12 X 18 |
| W361227-ash | 232.86 | | WALL CABINET BRIDGE – 2 DOORS36 X 27 X 12 |
| W361827-ash | 247.2 | | WALL CABINET BRIDGE – 2 DOORS36 X 27 X 18 |
| W3024-ash | 173.8 | | WALL CABINET BRIDGE – 24″ HIGH WITH 2 DOORS, 1 SHELF30 X 12 X 24 |
| W3624-ash | 226.96 | | WALL CABINET BRIDGE – 24″ HIGH WITH 2 DOORS, 1 SHELF36 X 12 X 24 |
| W362427-ash | 262.39 | | WALL CABINET BRIDGE – 24″ HIGH WITH 2 DOORS, 1 SHELF36 X 27 X 24 |
| WES0930-ash | 116.43 | | WALL END SHELF – 2 SHELFS ON 30″ & 36″ HIGH, 3 SHELVES ON 42″ HIGH 09 X 12 X 30 |
| WES0936-ash | 127.4 | | WALL END SHELF – 2 SHELFS ON 30″ & 36″ HIGH, 3 SHELVES ON 42″ HIGH 09 X 12 X 36 |
| WES0942-ash | 132.46 | | WALL END SHELF – 2 SHELFS ON 30″ & 36″ HIGH, 3 SHELVES ON 42″ HIGH 09 X 12 X 42 |
| WEC1230-ash | 134.15 | | WALL END CABINET – 2 DOORS, 2 SHELVES, 42″ HIGH WITH 2 DOORS, 3 SHELVES12 X 12 X 30 |
| WEC1236-ash | 143.43 | | WALL END CABINET – 2 DOORS, 2 SHELVES, 42″ HIGH WITH 2 DOORS, 3 SHELVES12 X 12 X 36 |
| WEC1242-ash | 157.77 | | WALL END CABINET – 2 DOORS, 2 SHELVES, 42″ HIGH WITH 2 DOORS, 3 SHELVES12 X 12 X 42 |
| WDC2430-ash | 246.36 | | WALL DIAGONAL CABINET – 1 DOOR ( 30″ AND 36″ HIGH WITH 2 SHELVES, 42″ WITH 3 SHELVES)24 X 24 X 30 |
| WDC2436-ash | 282.64 | | WALL DIAGONAL CABINET – 1 DOOR ( 30″ AND 36″ HIGH WITH 2 SHELVES, 42″ WITH 3 SHELVES)24 X 24 X 36 |
| WDC273615-ash | 296.98 | | WALL DIAGONAL CABINET – 1 DOOR ( 30″ AND 36″ HIGH WITH 2 SHELVES, 42″ WITH 3 SHELVES)27 X 27 X 36 |
| WDC2442-ash | 307.95 | | WALL DIAGONAL CABINET – 1 DOOR ( 30″ AND 36″ HIGH WITH 2 SHELVES, 42″ WITH 3 SHELVES)24 X 24 X 42 |
| WDC274215-ash | 323.14 | | WALL DIAGONAL CABINET – 1 DOOR ( 30″ AND 36″ HIGH WITH 2 SHELVES, 42″ WITH 3 SHELVES)27 X 27 X 42 |
| WMDC2430H-ash | 268.3 | | WALL DIAGONAL CABINET – 1 DOOR(WITH MATHCHING INTERIOR, GLASS SHELF & GLASS INSERT NOT INCLUEDE)24 X 24 X 30 |
| WMDC2436H-ash | 301.2 | | WALL DIAGONAL CABINET – 1 DOOR(WITH MATHCHING INTERIOR, GLASS SHELF & GLASS INSERT NOT INCLUEDE)24 X 24 X 36 |
| WMDC2442H-ash | 335.79 | | WALL DIAGONAL CABINET – 1 DOOR(WITH MATHCHING INTERIOR, GLASS SHELF & GLASS INSERT NOT INCLUEDE)24 X 24 X 42 |
| WMDC273615H-ash | 361.95 | | WALL DIAGONAL CABINET – 1 DOOR(WITH MATHCHING INTERIOR, GLASS SHELF & GLASS INSERT NOT INCLUEDE)27 X 27 X 36 |
| WMDC274215H-ash | 394.01 | | WALL DIAGONAL CABINET – 1 DOOR(WITH MATHCHING INTERIOR, GLASS SHELF & GLASS INSERT NOT INCLUEDE)27 X 27 X 42 |
| WBL2730-ash | 278.42 | | WALL MICROWAVE CABINET27 X 12 X 30 |
| WBL2736-ash | 290.23 | | WALL MICROWAVE CABINET27 X 12 X 36 |
| WBL2742-ash | 323.14 | | WALL MICROWAVE CABINET27 X 12 X 42 |
| w3018pr-ash | 154.4 | | PLATE RACK30 X 12 X 18 |
| w3618pr-ash | 164.52 | | PLATE RACK36 X 12 X 18 |
| w3015wr-ash | 134.15 | | WINE RACK30 X 12 X 15 |
| w3615wr-ash | 161.15 | | WINE RACK36 X 12 X 15 |
| 30GR-ash | 50.62 | | GLASS RACK30 X 12 X 3 |
| 36GR-ash | 70.03 | | GLASS RACK36 X 12 X 3 |
| WWRC6-ash | 117.27 | | WALL SPICE DRAWER30 X 12 X 6 |
| WP1884-ash | 682.55 | | TALL PANTRY – 2 DOORS ( 3 ADJUST SHELVES AND 3 PULL OUT TRAYS)18 X 24 X 84 |
| WP189027-ash | 722.21 | | TALL PANTRY – 2 DOORS ( 3 ADJUST SHELVES AND 3 PULL OUT TRAYS)18 X 27 X 90 |
| WP189627-ash | 736.55 | | TALL PANTRY – 2 DOORS ( 3 ADJUST SHELVES AND 3 PULL OUT TRAYS)18 X 27 X 96 |
| WP2484-ash | 708.71 | | TALL PANTRY – 4 DOORS ( 3 ADJUST SHELVES AND 3 PULL OUT TRAYS)24 X 24 X 84 |
| WP249027-ash | 742.46 | | TALL PANTRY – 4 DOORS ( 3 ADJUST SHELVES AND 3 PULL OUT TRAYS)24 X 27 X 90 |
| WP249627-ash | 756.8 | | TALL PANTRY – 4 DOORS ( 3 ADJUST SHELVES AND 3 PULL OUT TRAYS)24 X 27 X 96 |
| WP308427-ash | 790.55 | | TALL PANTRY – 4 DOORS ( 3 ADJUST SHELVES AND 3 PULL OUT TRAYS)30 X 27 X 84 |
| WP309027-ash | 831.04 | | TALL PANTRY – 4 DOORS ( 3 ADJUST SHELVES AND 3 PULL OUT TRAYS)30 X 27 X 90 |
| WP309627-ash | 852.14 | | TALL PANTRY – 4 DOORS ( 3 ADJUST SHELVES AND 3 PULL OUT TRAYS)30 X 27 X 96 |
| OC308427-ash | 620.96 | | SINGLE OVEN CABINET – 2 DRAWERS, 2 DOORS (OPENING FOR OVEN IS 38.5″)30 X 27 X 84 |
| OC309027-ash | 671.59 | | SINGLE OVEN CABINET – 2 DRAWERS, 2 DOORS (OPENING FOR OVEN IS 38.5″)30 X 27 X 90 |
| OC309627-ash | 711.24 | | SINGLE OVEN CABINET – 2 DRAWERS, 2 DOORS (OPENING FOR OVEN IS 38.5″)30 X 27 X 96 |
| OC338427-ash | 683.4 | | SINGLE OVEN CABINET – 2 DRAWERS, 2 DOORS (OPENING FOR OVEN IS 38.5″)33 X 27 X 84 |
| OC339027-ash | 698.58 | | SINGLE OVEN CABINET – 2 DRAWERS, 2 DOORS (OPENING FOR OVEN IS 38.5″)33 X 27 X 90 |
| OC339627-ash | 717.99 | | SINGLE OVEN CABINET – 2 DRAWERS, 2 DOORS (OPENING FOR OVEN IS 38.5″)33 X 27 X 96 |
| AG2418-ash | 252.27 | | APPLIANCE GARAGE24 X 24 X 18 |
| AG2718-ash | 265.77 | | APPLIANCE GARAGE27 X 27 X 18 |
| vd12-ash | 239.61 | | VANITY DRAWER BASE – 3 DRAWERS12 X 21 X 33 |
| vd15-ash | 269.14 | | VANITY DRAWER BASE – 3 DRAWERS15 X 21 X 33 |
| vd18-ash | 281.8 | | VANITY DRAWER BASE – 3 DRAWERS18 X 21 X 33 |
| vd24-ash | 302.89 | | VANITY DRAWER BASE – 3 DRAWERS24 X 21 X 33 |
| vb24p-ash | 195.74 | | SINK VANITY – STRAIGHT DOOR – 2 DOORS (FLAT FRONT)24 X 21 X 33 |
| vb24c-ash | 279.26 | | SINK VANITY – CURVE DOOR FRONT – 2 DOORS24 X 24 X 33 |
| vb24-ash | 225.27 | | VANITY BASE CABINET – 1 DUMMY DRAWER, 2 DOORS24 X 21 X 33 |
| vb30-ash | 246.36 | | 30 X 21 X 33 |
| vbd30r-ash | 350.14 | | VANITY BASE CABINET – RIGHT DOOR – 1 DOOR, 2 DRAWERS, 1 DUMMY DRAWER 30 X 21 X 33 |
| vbd36r-ash | 433.66 | | VANITY BASE CABINET – RIGHT DOOR – 1 DOOR, 2 DRAWERS, 1 DUMMY DRAWER 36 X 21 X 33 |
| vbd30l-ash | 350.14 | | VANITY BASE CABINET – LEFT DOOR – 1 DOOR, 2 DRAWERS, 1 DUMMY DRAWER 30 X 21 X 33 |
| vbd36l-ash | 433.66 | | VANITY BASE CABINET – LEFT DOOR – 1 DOOR, 2 DRAWERS, 1 DUMMY DRAWER 36 X 21 X 33 |
| dsk24-ash | 125.71 | | KNEE DRAWER – 1 DRAWER24 X 21 X 7.5 |
| dsk27-ash | 144.27 | | KNEE DRAWER – 1 DRAWER27 X 21 X 7.5 |
| dsk30-ash | 156.08 | | KNEE DRAWER – 1 DRAWER30 X 21 X 7.5 |
| lc12-ash | 250.58 | | COUNTERIOP LINEN CABINET12 X 12 X 45.5 |
| RP4-ash | 129.09 | | TURN POST3 X 3 X 34.5 |
| SP4-ash | 120.65 | | TURN POST3 X 3 X 34.5 |
| RD18-ash | 63.28 | | ROLL OUT TRAY14 1/16 X 21 7/8 X 3 103/139 |
| RD21-ash | 67.5 | | ROLL OUT TRAY17 1/16 X 21 7/8 X 3 103/139 |
| RD24-ash | 70.87 | | ROLL OUT TRAY20 1/16 X 21 7/8 X 3 103/139 |
| RD27-ash | 83.53 | | ROLL OUT TRAY23 1/16 X 21 7/8 X 3 103/139 |
| RD30-ash | 90.28 | | ROLL OUT TRAY26 1/16 X 21 7/8 X 3 103/139 |
| RD33-ash | 98.71 | | ROLL OUT TRAY29 1/16 X 21 7/8 X 3 103/139 |
| RD36-ash | 107.15 | | ROLL OUT TRAY29 1/16 X 21 7/8 X 3 103/139 |
| V30A-ash | 26.15 | | FRIEZE VALANCE30 X 3/4 X 4 |
| V36A-ash | 31.22 | | FRIEZE VALANCE36 X 3/4 X 4 |
| V42A-ash | 35.44 | | FRIEZE VALANCE42 X 3/4 X 4 |
| V48A-ash | 46.4 | | FRIEZE VALANCE48 X 3/4 X 4 |
| V60A-ash | 60.75 | | FRIEZE VALANCE60 X 3/4 X 4 |
| V30B-ash | 21.09 | | ARCHED VALANCE30 X 3/4 X4 |
| V36B-ash | 25.31 | | ARCHED VALANCE36 X 3/4 X4 |
| V42B-ash | 29.53 | | ARCHED VALANCE42 X 3/4 X4 |
| V48B-ash | 35.44 | | ARCHED VALANCE48 X 3/4 X4 |
| V60B-ash | 42.19 | | ARCHED VALANCE60 X 3/4 X4 |
| RPV36-A-ash | 258.17 | | HOOD ARCHED VALANCE36 X 3/4 X 15 |
| RPV42-A-ash | 286.86 | | HOOD ARCHED VALANCE42 X 3/4 X 15 |
| RPV48-A-ash | 314.7 | | HOOD ARCHED VALANCE48 X 3/4 X 15 |
| RPV54-A-ash | 342.54 | | HOOD ARCHED VALANCE54 X 3/4 X 15 |
| RPV60-A-ash | 370.38 | | HOOD ARCHED VALANCE60 X 3/4 X 15 |
| BF3-ash | 25.31 | | BASE FILLER3 X 3/4 X 34.5 |
| BF6-ash | 44.72 | | BASE FILLER6 X 3/4 X 34.5 |
| pnl8x3-ash | 116.43 | | BASE SKIN PANEL 96 X 1/8 X 36 |
| pnl4x8-ash | 135.84 | | BASE SKIN PANEL longgrain96 X 1/8 X 48 |
| FP4*8-ash | 195.74 | | BASE SKIN PANEL (3/4 INCH) longgrain96 X 3/4 X 48 |
| vdep-ash | 98.71 | | BASE END DUMMY DOOR21 x 3/4 x 30 |
| bdep-ash | 102.09 | | BASE END DUMMY DOOR24 X 3/4 X 30 |
| bdd18-ash | 110.52 | | BASE DUMMY DOOR18 X 1.5 X 30 |
| bdd24-ash | 145.96 | | BASE DUMMY DOOR24 X 1.5 X 30 |
| bdd30-ash | 184.77 | | BASE DUMMY DOOR30 X 1.5 X 30 |
| bdd36-ash | 203.33 | | BASE DUMMY DOOR36 X 1.5 X 30 |
| wf3-ash | 16.87 | | WALL FILLER3 X 3/4 X 30 |
| WF336-ash | 18.56 | | WALL FILLER3 X 3/4 X 36 |
| WF342-ash | 21.09 | | WALL FILLER3 X 3/4 X 42 |
| wf396-ash | 50.62 | | WALL FILLER3 X 3/4 X 96 |
| WF630-ash | 29.53 | | WALL FILLER6 X 3/4 X 30 |
| WF636-ash | 35.44 | | WALL FILLER6 X 3/4 X 36 |
| WF642-ash | 39.65 | | WALL FILLER6 X 3/4 X 42 |
| wf696-ash | 94.49 | | WALL FILLER6 X 3/4 X 96 |
| wdep30-ash | 48.93 | | WALL DUMMY DOOR12 X 3/4 X 30 |
| wdep36-ash | 58.22 | | WALL DUMMY DOOR12 X 3/4 X 36 |
| wdep42-ash | 69.18 | | WALL DUMMY DOOR12 X 3/4 X 42 |
| wf396f-ash | 50.62 | | FLUTED FILLER 3 X 3/4 X 96 |
| bep3-ash | 61.59 | | DISHWASHER PANEL WITH 3″ RETURN FILLER3 X 24 X 34.5 |
| rep90-ash | 108.84 | | REFRIGERATOR PANEL WITH 3″ RETURN FILLER3 X 27 X 90 |
| rep96-ash | 116.43 | | REFRIGERATOR PANEL WITH 3″ RETURN FILLER3 X 27 X 96 |
| sm8-ash | 14.34 | | SCRIBE MOLDING / TRIM MOLDING96 X 1/4 |
| ocm8-ash | 38.81 | | OUTSIDE CORNER MOLDING 120 X 1/4 |
| orm8-ash | 48.93 | | QUARTER ROUND MOLDING 120 X 1/4 |
| cm8-d-ash | 128.24 | | LARGE DENTIL MOLDING 120 X 4 |
| dm8-ash | 58.22 | | CROWN MOLDING 120 X 2 |
| TK8-ash | 19.41 | | TOE KICK / TOE PLATE96 X 4.5 |
| OGM10-ash | 71.71 | | OGEE MOLDING 120 X 3/4 |
| lrm8-ash | 87.74 | | LIGHT RAIL MOLDING 120 X 1 1/2 |
| CR8-ash | 34.59 | | CHAIR RAIL MOLDING120 X 1 |
| FSM10-ash | 41.34 | | CHAIR RAIL MOLDING120 X 1.5 |
| fbm8-ash | 80.15 | | BASE MOLDING120 X 4 |
| cm8-ash | 105.46 | | LARGE CROWN MOLDING 120 X 2 1/4 |
| cm8-4-ash | 137.52 | | LARGE CROWN MOLDING 120 X 4 |
| rh36-ash | 243.83 | | RANGE HOOD36X24X8 |
| WM1230-ash | 37.12 | | GLASS DOOR FRAME12 X 30 |
| WM1236-ash | 38.81 | | GLASS DOOR FRAME12 X36 |
| WM1242-ash | 42.19 | | GLASS DOOR FRAME12 X 42 |
| WM1530 WMDC2430-ash | 43.87 | | GLASS DOOR FRAME15 X 30 |
| WM1536, WMDC2436-ash | 46.4 | | GLASS DOOR FRAME15 X36 |
| WM1542, WMDC2442-ash | 48.93 | | GLASS DOOR FRAME15 X 42 |
| WM1830-ash | 52.31 | | GLASS DOOR FRAME18 X 30 |
| WM1836-ash | 54 | | GLASS DOOR FRAME18 X36 |
| WM1842-ash | 55.68 | | GLASS DOOR FRAME18 X 42 |
| WMDC2736-ash | 46.4 | | GLASS DOOR FRAME15 X 36 |
| WMDC2742-ash | 48.93 | | GLASS DOOR FRAME15 X 42 |
| GLASS-ash | 35.44 | | GLASS |
| GLASS SHELF-ash | 35.44 | | GLASS |
| RPS 18*2-ash | 27.84 | | SPLIT POST 2 X 3/4 X 18 |
| RPS 24*2-ash | 39.65 | | SPLIT POST 2 X 3/4 X 24 |
| RPS 30*2-ash | 52.31 | | SPLIT POST 2 X 3/4 X 30 |
| RPS 36*2-ash | 61.59 | | SPLIT POST 2 X 3/4 X 36 |
| RPS 42*2-ash | 69.18 | | SPLIT POST 2 X 3/4 X 42 |
| GC58-ash | 129.93 | | SMALL GRAPE CORBEL4 1/2 X 5 X 10 |
| OLC318-ash | 135.84 | | LARGE GRAPE CORBEL 3 X 3 X 18 |
| RC530-ash | 393.16 | | LARGE CORBEL 5 1/8 X 7 X 30 |
| CB34-ash | 461.5 | | LARGE CORBEL 6 1/4 X 7 1/2 X 34 1/2 |
| FB3X3-ash | 10.97 | | ROSETTE BLOCK 3 X 1/2 X 3 |
| GRPO-ash | 107.99 | | GRAPE ONLAY 20X5/8X4 1/2 |
| SGO-ash | 23.62 | | GRAPE ORNAMENT 3X5/8X4 |
| ASO-ash | 45.56 | | DÉCOR 6 X 6 |
| *24-ash | 61.59 | | FOOT TOE LEG24 X 4.5 |
| GLIDES-ash | 50.62 | | GLIDES |
| MARKER / Puddy Stick-ash | 25.31 | | MARKER / Puddy Stick |
| Hinges-ash | 8.44 | | Hinges |