We fully understand how difficult it can be to compare "apples to
apples" when shopping for cabinetry. Below you will find a few explanations
of some of the features that affect price / quality / visual: Most of the
discussion is about doors and drawers as that's where most of these decision
factors are found.
Full overlay versus traditional overlay…full
overlay is where the door and drawer front cover or almost cover the face
frame of the cabinet box. Traditional overlay cabinets use a slightly
smaller door/drawer front that allows a bit more of the face frame to be
visible. The traditional overlay cabinets tend to look a little more
intricate with more depth variations and shadow lines. Full overlay doors
usually cost a bit more and can lead to a more uniform "contemporary" feel.
One advantage of the full overlay cabinet is that the double door boxes can
be "butt doors". A term used to describe the elimination of the center stile
(the post between the doors) which allows easier access to the inside of the
cabinet. A disadvantage of the full overlay is that it requires hardware
(knobs or pulls) which can be a significant expense and overly complicate
the visual. I should mention that some manufacturers offer a modified full
overlay. This is basically a full overlay application with a little extra
space left between the door and drawer front on the base cabinets which
eliminates the need for knobs or pulls. Full overlay cabinets may also
require a little extra effort when applying trim like crown molding. Because
there is not much face frame to work with, most installers will need to run
a cleat or scrap wood around the upper perimeter to attach crown molding.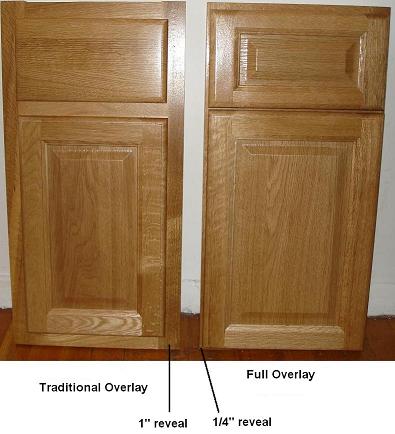 5 piece versus slab door ….Most of our wood
cabinet doors are constructed using 5 components…the 4 outer frame pieces
(stiles and rails) and a floating center panel. The floating panel is only
captured inside the frame and is not actually attached or glued to the frame
pieces. This allows both the frame and center panel to expand and contract
with temperature and humidity without cracking or warping. A larger solid
slab door can be more prone to warp. Some of our cabinets do have a slab
drawer front. [see above – left]
Door Frame Construction….Mortise and tenon
versus Miter Corner. Mortise and tennon construction seems to be the
industry standard. When pinned and glued this is a very strong joint but can
slightly amplify the color/tone/grain variations at the joint. The miter
joint tends to expand the frame visually and is often found on higher end
custom doors.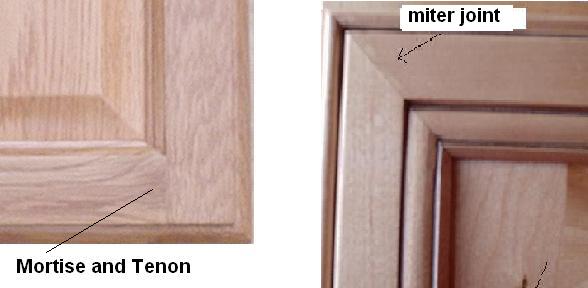 Solid wood center panel in
the door…some doors will have an MDF substrate core covered with a
matching veneer while some more expensive doors will have a center panel
constructed out of solid wood. In most cases, you'd have to be a real wood
connoisseur to notice a difference. Even in flat panel or recessed panel
doors you can find veneers and solid (reverse raised). See pic below

Applied or decorative moldings and/or inlays
have become quite popular and are another indication of a higher end door.
See Pic above
Finishes    
Stains are pretty much not a factor…if at all, very dark may
cost slightly more than the light. As expected, lighter stains let a lot
more of the natural characteristics show through….more pronounced veining,
graining, mineral streaks, etc. Some of the medium toned stains tend to look
a little splotchy rather than a uniform coverage, I was told that this is
done intentionally to better blend the different wood variations and soften
the overall look of the cabinets. Hmmm?  Not sure if I buy that one….
We offer only one painted cabinet…its our most expensive…I should
also disclaim that you can expect the painted door frame joints to develop
hairline cracks during or after installation.  Most of our doors have a
medium sheen or matte finish on the clear protective coat. Not a
significant factor as far as cost goes but, keep in mind that glossier
coatings tend to show more smudges and scratches.   Applied
glazes and accent lines are another item that typically adds to the
cost. Glaze is extra the dark areas in the finish, usually very noticeable
in the corners and crevices. I often describe it as dirt in the cracks. A
Glaze or accented finish tends to give a warm distressed dimension but, not
at all dirty looking. For further study you might consider researching the
different finish processes used. Terms to look for: AC (acid curing or acid
catalyst) PU (poly urethane) NC (nitro cellulose) … pre catylized lacquer
… poly poxy. We prefer fabrication facilities that use a low pressure
misting application that lowers VOCs (volitile organic compounds) released
into the atmosphere.
Framed vs. Frameless…. ADI sells only framed
cabinets, all with 3/4″ solid wood face frames. (oops…we now offer the Euro Bamboo and several other frameless cabinets…9-15-09)"Framed" is simply a cabinet
construction method designed to add strength and durability to the cabinet
box. Frameless (or euro style) construction is where the door (hinges) are
mounted directly to the side panels of the cabinet box. Frameless cabinets
are, by definition, full overlay and will always require knobs and/or pulls.
Frameless boxes are typically constructed of slightly heavier material than
framed and will require a little more time and effort to get them installed
properly….framed cabinets are more rigid and can hold square where
frameless can tend to follow or settle into wall/floor imperfections with
time.
Plywood vs. particle board box…. ADI sells
only plywood box cabinets. The obvious plywood advantage is that plywood
will hold up better to moisture than particle board. In all fairness, there
is nothing wrong with particle board……its sturdy and stable….just
don't get it wet. I believe you will find there is a significant upgrade
charge with domestic manufacturers to get plywood construction although I
suspect that may be changing in the future with the influx of the Chinese
RTAs and the Russian plywood flooding the market.
Wood drawer box vs. …..ADI sells only wood
boxes. The cabinet drawer is the heaviest use and most likely to fail of all
your cabinet components. Many low to mid range cabinet lines offer a vinyl
wrapped particle board drawer box usually glued and or stapled at the
joints. The Solid wood boxes that are screwed together are quite durable and
a glued dovetail joint may actually be a bit of overkill!
Drawer Hardware (guides, slides and glides)….
All ADI drawer hardware is rated at 75 lb or better. We sell standard as
well as upgraded glides. Under Mounted – Self Closing – full extension –
telescoping – ball bearing – stainless steel – soft close (just some of the
"upgrade" terms) -vs.- standard – side mount – 3/4 extension – epoxy coated
– nylon roller. My feelings are that you can get the same functionality and
less problems from the cheaper drawer guides but that's just my opinion. I
have had many clients replace our standard hardware with upgraded hardware
only to report back that they wish they had left 'em alone. I use standard
hardware in my personal kitchen and have never had a problem. I do however,
like the soft close feature as it helps quiet the kitchen and saves wear and
tear on the drawer box. Another thing to note is that under mount glides
will (in theory) allow a slightly wider drawer box than the side glides
however the RTAs seem to use standardized drawer box sizes regardless of
hardware and their clearances.
Door Hinges… Like the drawer hardware, I
don't see two hoots worth of difference between the cabinet lines that use
standard and the lines that use upgraded hinges. We've not heard of a hinge
failure yet! All ADI hinges are recessed hidden. some have a additional
adjustment settings but all of our doors come prehung on the face frames and
will rarely need tweaking.
lets review a set of specs at the lower end of the scale
Mocha Oak

Face Frame:     3/4″ Solid

Door:   Flat Panel 5 pc

Door Frame: mortise and tenon

Door Core:    veneer

Overlay:  traditional 1″ reveal

Box:  1/2″ Plywood (no Particle Board)

Drawer Head:  slab

Drawer Hdwr: std side glide

Drawer Box: ply  plyfloor

Stain-Glaze paprika no glaze 
and compare to a more expensive door
Cinnamon Maple

Face Frame:     3/4″ Solid

Door:   Raised Panel 5 pc

Door Frame: Mitered appl rope inlay

Door Core:    Solid

Overlay:  Full 1/4″ reveal

Box:  1/2″ Plywood (no Particle Board)

Drawer Head:  5 Pc raised panel

Drawer Hdwr: UM  Full Ext Sft Clos

Drawer Box: dovetail plyfloor

Stain-Glaze Cinammon w Dark Accent
if we take the basic "econo line" cabinet and add in the up-charges for a
raised panel door, miter corner door frame with rope inlay, solid wood core, full
overlay, 5 pc drawer head, upgraded drawer glides, dovetail drawer box,
premium stain with glaze, maple vs oak, etc…. you begin to understand the various
factors and choices involved with picking your cabinets.
We recommend that you prioritize your cabinet search using budget and color/finish
rather than getting caught up in the endless search of finding the perfect cabinet with all the bells and whistles.
Let's be honest, the basic function of your cabinetry changes very little when
going from economy cabinets to the upper end lines. Look at a few door styles and finishes that are
visually pleasing to YOUR eye. Your drawer will function the same (slide in and out)
whether you choose the basic epoxy coated drawer guide or the stainless steel, undermounted,
telescoping, ball bearing, super smooth drawer glide system.
Some FAQs from our Clients
Can I Special Order Certain Cabinets? All
of the Cabinets we offer are fabricated and prepackaged
overseas. Once here in the U.S., The packages are simply pulled
off of a shelf and sent directly to you so there's not much of a
chance for box alterations or accessory installation. The
Various Stains, Glazes, Wood Species and Door Profiles are not
interchangeable.  Each cabinet (name) line is separate and
individual….we can't offer the honey stained cabinets with
anything other than the honey stain. In other words, what you
see is what you get.
Can I pick up my order from your warehouse to
save on freight? Most of our warehouses prefer to distribute
through a Dealer Network and do not allow customer pick ups. In
short, the shipper's terminals are not set up to handle a retail
transaction which triggers the collection of sales tax (which
can wipe out your freight savings).
How do I qualify for an ADI Dealership?
In most cases, Dealerships are available to Established Kitchen
and Bath Professionals Only. Requirements such as Physical store
front, EIN#, Design and layout experience, etc. There are also
some restrictions as to what door styles may be available in
your area.
How do I get Samples? Some of the
individual cabinet lines do offer single doors for purchase.
Typically, they run $20 to $25 each including postage. We also
offer small pieces of matching trim for color match. Many
clients opt to purchase a single small cabinet from their design
before committing to the entire project. This option lets you
see the ease of assembly and the workmanship as well as the
color and finish details.
Do you charge sales tax? For
most clients, No. The exception is shipments going into the
State of FL. I have argued with them til blue in the face but
the bottom line is that we are a registered FL Corporation, with
an office in FL and selling products to FL residents. Any FL
business with a resale certificate would of course be exempt.
Who manufactures your cabinets?  All
of our cabinets are fabricated, packaged and imported from
China. I have seen pictures and names of some of the plants but
most are written in Chinese??? The warranties are covered by the
manufacturers but goes through a chain of brokers and
distributors. Alert Data, Inc (ADI supply) (RTA Kitchen Cabinet)
(RTA Cabinet Mall) is fully responsible and will back the
cabinets against defects.
Do you offer other Cabinet Lines or door
styles?  We currently offer 48 different door styles.
All with solid wood face and door frames, all with plywood
boxes. If you see anything you like, give us a call
386-761-4946.
Below are some very informative
questions and answers coming from ebay and our websites.
as you will see, these are real questions from
real people and our unedited answers,
Q:     Are the upper
cabinets available in 42″ height? I'm looking for cabinets (or
combined with top trim) that will go to the ceiling. What about
RTA quality? I've been looking at cabinets for a while on eBay,
and I'm unsure of the RTA quality.
A:    Hello and thank you for the inquiry. Almost
all of our suppliers offer 30 and 42 inch high wall cabs and
many offer 36s for that staggered look. Venetian maple has 30,36
and 42…. go to the ceiling?….Standard installations
procedures will set the bottom of your wall cabs at 54 inches
off of the floor so the top of a 42 will finish at 96 inch.
The quality of the RTAs is great! With the solid wood face
frames and plywood boxes, they're hard to match with a domestic
manufactured cabinet. on a scale of 1 to 10….I would score the
quality at about  8. There is a few draw backs to the RTAs
to consider….they do require your time for assembly and the
door profiles and finish (color) selections can be a bit
limited. Statistically, Most of our DIY clients are attracted by
pricing, quality and speed of delivery (in that order)…..
Quite often, clients will purchase a single cabinet prior to
buying the whole project.
Q:     Would these cabinets
work only in the layout specified in the picture? I have an L
shape layout, but I am very confused as to the size and spacing
of these cabinets. Thanks
A:     Hello and thank you for the inquiry.
We rarely sell the exact set of cabinets as shown in the 10×10
layout. We are glad to work with you to help design a custom
package….that fits your needs. For example…your
refrigerator, window, sink may be in a different location. The
10×10 ads are simply to give you an idea of the pricing rather
than limit your selection to that single parts list. If we reach
an agreement, We will gladly run a separate buy it now auction
(with your customized parts list) so you can maintain the ebay/paypal
protection.
Q:    What do you charge for designing a custom
kitchen for me. Can you send me a price list for your extras and
upgrades
A:     We don't charge for basic design
services and would like to show you what we can do for you!
Although our free design service does have time limits and our
system will often make substitutions to match our cabinet SKU
offering, the design service is focused on giving you an
accurate quote. If you need to see multiple combinations of
layouts with 3d color view, (all the bells and whistles) you may
want to consider a professional design service. I encourage you
to at least give us a try….its free…no obligations…no
strings attached. However, Our service does require a little
effort on your end. Could you fax or email us a rough sketch of
your project? We need an idea of your wall dimensions and
appliance,sink,window,etc locations. Accurate measurements can
save us both a lot of headaches. Would also need your ship to
zip code (to calculate freight) and your regular email address
(we will send you pdf files) (Ebay doesn't allow attachments on
their mail system).
Unlike a conventional shop, we don't have much in the way of
upgrades or extra charges. The price lists published here are
pretty much all there is….freight is determined by your
distance from the shipping warehouse and weight of your order.
Most warehouses have a pallet charge or packing charge ranging
from $20 to $40. Sales tax is added only to orders shipped into
the state of FL.
Q:     I also need to ask
you in your professional opinion, how do they compare to kraft
mid and johnsonville? I see they are all wood but how do the
finishes hold up? Are they urethane? Sorry for the 20 questions
A:     Please, Ask all the questions you
want. I'll will answer them as honestly and quickly as possible.
I would much rather inform now than surprise you later!
I used to sell kraftmaid but not sure about johnsonville? I
should mention that all of our cabinets and most of the RTAs on
the market today are imported from China. Many of the door
styles offered are actually close copies of American made "best
sellers". The RTAs have several drawbacks…. Limited SKUs, as
in fewer parts to design with when compared to semi-custom
lines. Limited color and door style selection as in most RTA
Distributors offer 3 or 4 door styles and each style is usually
available in 1 color only….and RTA stands for "ready to
assemble" as the cabinets are shipped to you unassembled. The
advantages are lower price with better quality and quicker
delivery.         The
standard RTA cabinet will have a comparable overall finish to
mid range domestic manufacturers (like kraftmaid) but I wouldn't
call it superior. Wood selection (as in grading for color and
grain match) is about the same or maybe a bit better on our more
expensive lines. Urethane? we typically advertise a "catalyzed
protective coat" which just means a poly clear coat with an
additive to make it dry fast. The catalyst is used by most
manufacturers to add durability without making the finish so
hard that it is prone to scratches. When we "spec" a new door
style with Chinese manufacturers, we usually ask for a magnamax
equivalent.
Q:      I am no expert and appreciate
your input. How do you feel about wall ovens and a slide in cook
top as opposed to a range? What if we add cabinets on the wall
opposite the window no counter just cabinets? would that occupy
too much space? Note the house is not built yet and If I need to
chage the french doors to a single door for more room i can do
that as well but would prefer not to do that. What about
cabinets over the pennisula? I appreciate you working with me.
Thank you! Jason
Please let me know what you think
A:     Hello J, the imported stock cabinets
have some drawbacks when designing with larger than standard
appliances…. namely, most of our lines don't offer large
bridge cabinets to set over refrige/range (largest is 39″). Can
be done but requires a little carpentry work on your end. A lot
will also depend on your ceiling height?
Personally, I don't care for the oven/cook top combo as it is
overpriced, complicates the work flow and would further "shrink"
your room. The large "tall cabinets" like oven/pantry/refrig
tend to overwhelm a smaller floor plan both visually and
functionally. Fill the wall opposite the window? Is there a
french door there? Moving the Refrig/pantry to that wall may not
add much more storage space but would definitely allow more
usable counter space around the range and visually give
symmetrical placement of the cooking center. Cabs over
peninsula? Can be done but again, our SKU offering limits sizes
and configurations and a lot still depends on the ceiling
height.???
Q:     Is this pricing set, or can I make an
offer?
A:     Hello and thank you for the inquiry.
Its not that we aren't open to offers but have had to remove
that option from our Ebay ads. Too many ridiculous offers.
Please shop around, compare apples to apples, and you will find
our prices are quite reasonable. Some competitors have added
hundreds of dollars to their cabinet prices so they can blast
you with free freight, discount coupons or other fluffery.
We know your smarter than that and would prefer to do business
in a more ethical manner that gives you our best price up front.
PLYWOOD vs PARTICLE BOARD
Most domestically made kitchen cabinets use particle board for the carcass(the cabinet box itself, behind the face). The manufacturers
use particle board because its cheap and stable ( doesn't warp). Besides the obvious deterioration with water, there may be other
environmental factors to consider. The particle board panels give off harmful gases into your kitchen. The urea ( a formaldehyde resin) is
a known carcinogen. What's worse is that when the resin gets heated, the emissions are more concentrated and more toxic. How many
appliances in your kitchen are near the cabinets heating these poisonous panels – range/ovens, dishwashers, etc. Non-green cabinets
can disperse chemicals into your kitchen: in the very place where you prepare your food to nourish your family.
Other reasons not to use particle board is that its very hard to repair if damaged, it doesn't last as long, it won't hold a screw very well
(so your drawer glides and other hardware tends to fail earlier).
Kraftmaid typically charges a 15% upgrade fee to replace their standard particle board cabinets with plywood construction. Well worth
the investment…….or you could visit http://rtacabinetmall.com and get a much better deal.
If you've been internet shopping for cabinets, you've probably found that there are hundreds of websites for new kitchen cabinets, custom and semi-custom cabinets,  name brand cabinets, modular and flat pack (ready to assemble cabinets) and another array of sites for cabinet accessories, cabinet knobs and cabinet hardware and still more industry experts like cabinet contractors, cabinet installers and cabinet designers….. all demanding your attention. How does one sift through all this information? We've done the leg work for you. We've been through the confusing maze of online cabinet outlets. We've tested the products and experienced the different levels of service. We have sifted through the online cabinet industry to bring you the best priced and most reliable rta products found in the market today. Consider a quick review of our article, how to shop for cabinets. You will quickly see a few key points about cabinets that may or may not be important for you. The point is that with a little education, you will be able to eliminate thousands of door styles and specs to narrow your search to only a few specifications or cabinet door colors-profiles that fit your wants, needs and pocketbook. At some point you should be able to easily describe your particular likes. For example: rta kitchen cabinets, maple, full overlay, raised panel…..
Questions??????? Call us 386-761-4946 Mon thru
Fri  9a to 4p EST