[show_wp_shopping_cart]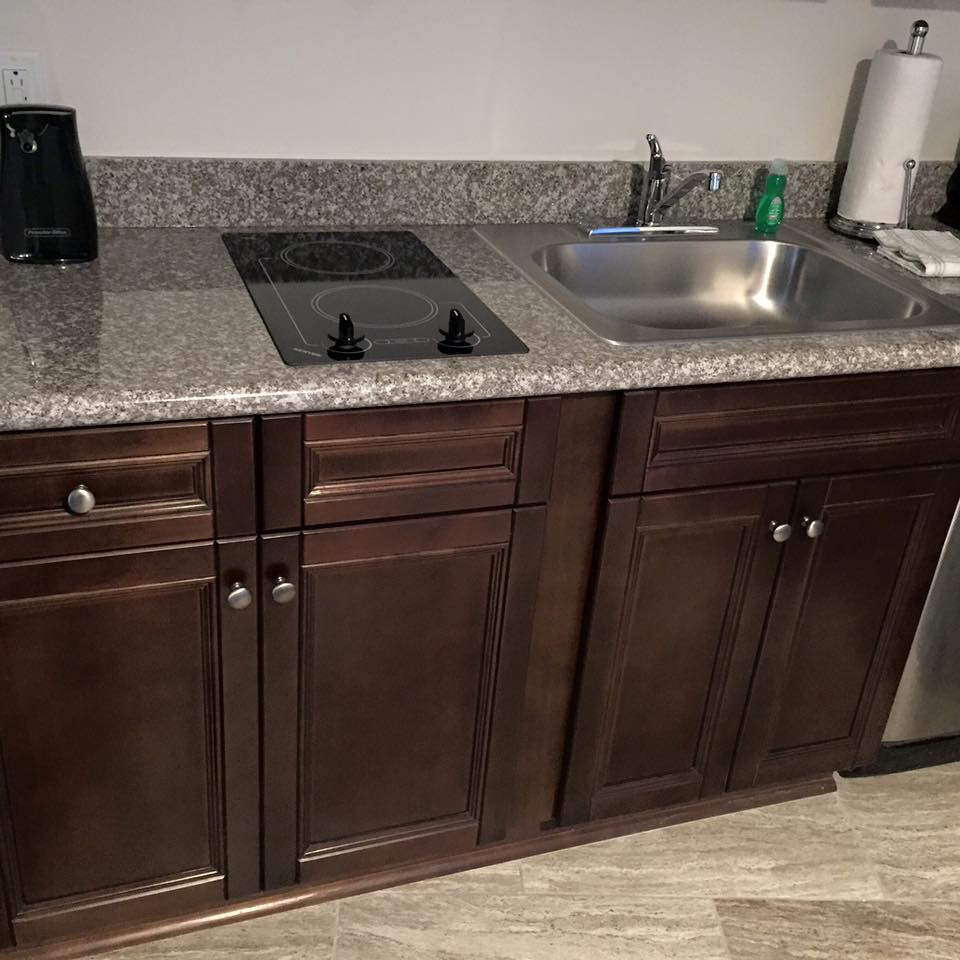 cook top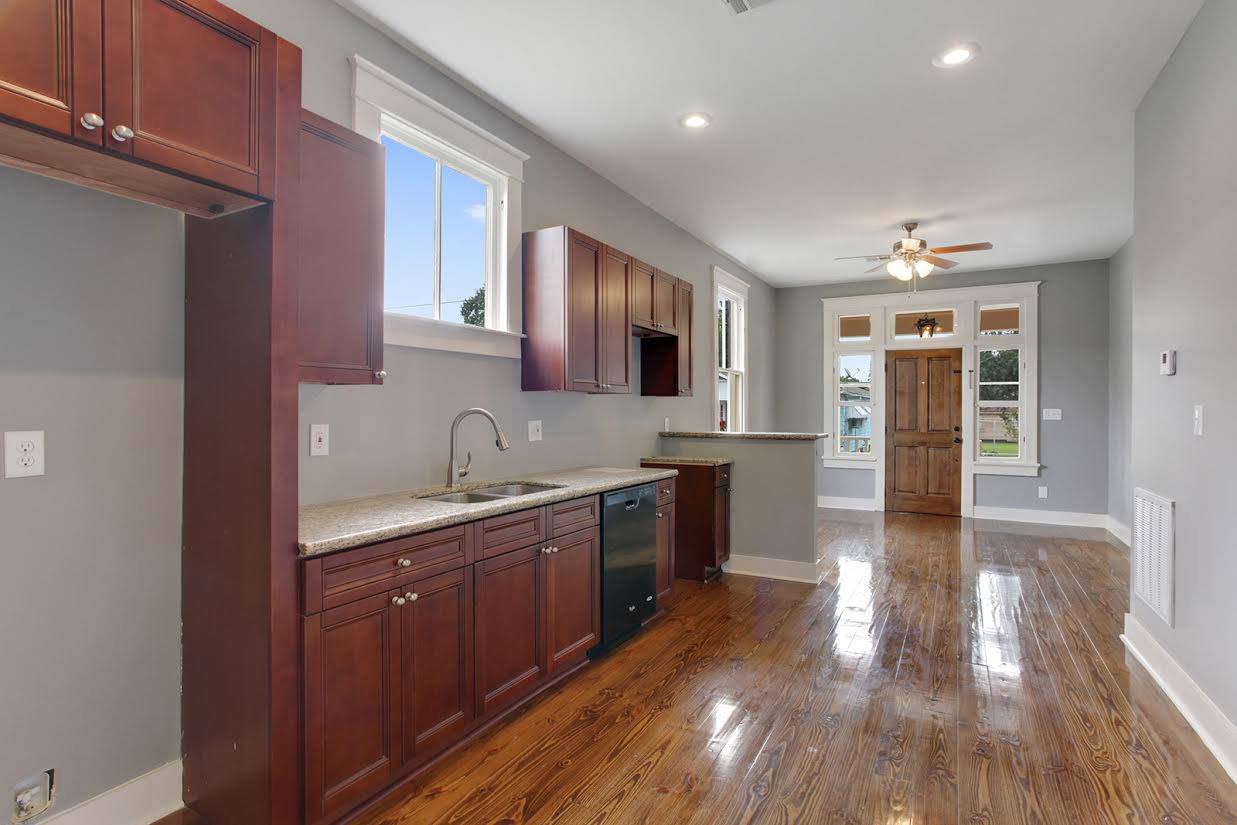 straight run set
The Port Cabinet line features a flat panel, full overlay door and drawer face that have been beautifully stained in a rich burgundy. With stylish waterfall edged stiles and rails, the microgroove door construction…this line is a real eye catcher.  A sophisticated cabinet system with amazing price points. Ships from New Orleans usually within 72 hours. Free freight on orders of $2000 or more.
FREE FREIGHT! *** minimum purchase required.*** Orders less than $2000 may see a small supplemental freight charge attached at check out. Delivery only to your confirmed credit card address, lower 48 States only.   (all sales in usd $) Sales Tax is collected on FL destinations only (resale certificate exceptions).
Pre-arranged customer pick ups or "customer directed" commercial pick ups may be available. Pre-Assembly may be available on certain cabinet lines. Adds approximately $20 per cabinet plus additional freight charges and adds two weeks to delivery times.
Prices, Specifications and Availability subject to change without notice. If you have any questions please call 386-761-4946

Specifications, Availability and Pricing subject to change without notice….call 386-761-4946
PORT (L-1) burgundy Flat Panel – economy/builder grade – RTA ships from LA
call 386-761-4946
face overlay
full overlay doors and drawer faces
door construction
5 piece with 3/4 inch thick hard wood stiles and rails with floating veneered flat center panel – mortise and pinned micro groove joints
drawer construction
5 piece with 3/4 inch thick hard wood stiles and rails with floating veneered flat center panel – mortise and pinned micro groove joints
face frame construction
3/4 inch thick hard wood stiles and rails – mortise and pinned
drawer box construction
5/8″ plywood perimeter with 3/8″ plywood floor – box joints- natural stained
drawer glides
side mount – steel ball bearing – full extension (*self close optional)
door hinges
6 way adjustable –  concealed cup –  110 degree open (*soft close optional)
cabinet side panels
1/2″ furniture grade plywood with exterior stained to match face
cabinet back panels
1/8″ plywood with 1/2″ plywood frame
toe board
3/16 x 4 1/2 matching stain included with each base
shelves
5/8 ply adjustable – std base cabinets 1 shelf 30″h wall cabinets w 2 shelves and 36/42″ h wall cabinets with 3 shelves
assembly
pre cut dado with metal L brackets – pin gun and glue recommended (*pre assembly option may be available for certain delivery areas)
upgrades
dovetailed wood roll out trays available for 18, 24, and 30″ base cabinets
SD – prt –
$25
[wp_cart:prt – SD:price:10:end]
Sample Door
W0930 – prt –
$70.2784
[wp_cart:prt – W0930:price:70.2784:end]
WallCabinet-9Wx30Hx12D 1door
W1230 – prt –
$91.74112
[wp_cart:prt – W1230:price:91.74112:end]
WallCabinet-12Wx30Hx12D 1door
W1530 – prt –
$101.51184
[wp_cart:prt – W1530:price:101.51184:end]
WallCabinet-15Wx30Hx12D 1door
W1830 – prt –
$111.26992
[wp_cart:prt – W1830:price:111.26992:end]
WallCabinet-18Wx30Hx12D 1door
W2130 – prt –
$121.028
[wp_cart:prt – W2130:price:121.028:end]
WallCabinet-21Wx30Hx12D 1door
W2430 – prt –
$142.50336
[wp_cart:prt – W2430:price:142.50336:end]
WallCabinet-24Wx30Hx12D 2door
W2730 – prt –
$146.42176
[wp_cart:prt – W2730:price:146.42176:end]
WallCabinet-27Wx30Hx12D 2door
W3030 – prt –
$158.1264
[wp_cart:prt – W3030:price:158.1264:end]
WallCabinet-30Wx30Hx12D 2door
W3330 – prt –
$165.92528
[wp_cart:prt – W3330:price:165.92528:end]
WallCabinet-33Wx30Hx12D 2door
W3630 – prt –
$187.41328
[wp_cart:prt – W3630:price:187.41328:end]
WallCabinet-36Wx30Hx12D 2door
W3930 – prt –
$199.11792
[wp_cart:prt – W3930:price:199.11792:end]
WallCabinet-39Wx30Hx12D 2door
W4230 – prt –
$212.78176
[wp_cart:prt – W4230:price:212.78176:end]
WallCabinet-42Wx30Hx12D 2door
W0936 – prt –
$81.98304
[wp_cart:prt – W0936:price:81.98304:end]
WallCabinet-9Wx36Hx12D 1door
W1236 – prt –
$105.40496
[wp_cart:prt – W1236:price:105.40496:end]
WallCabinet-12Wx36Hx12D 1door
W1536 – prt –
$111.26992
[wp_cart:prt – W1536:price:111.26992:end]
WallCabinet-15Wx36Hx12D 1door
W1836 – prt –
$126.89296
[wp_cart:prt – W1836:price:126.89296:end]
WallCabinet-18Wx36Hx12D 1door
W2136 – prt –
$138.5976
[wp_cart:prt – W2136:price:138.5976:end]
WallCabinet-21Wx36Hx12D 1door
W2436 – prt –
$146.42176
[wp_cart:prt – W2436:price:146.42176:end]
WallCabinet-24Wx36Hx12D 2door
W2736 – prt –
$153.72768
[wp_cart:prt – W2736:price:153.72768:end]
WallCabinet-27Wx36Hx12D 2door
W3036 – prt –
$165.92528
[wp_cart:prt – W3036:price:165.92528:end]
WallCabinet-30Wx36Hx12D 2door
W3336 – prt –
$179.58912
[wp_cart:prt – W3336:price:179.58912:end]
WallCabinet-33Wx36Hx12D 2door
W3636 – prt –
$203.01104
[wp_cart:prt – W3636:price:203.01104:end]
WallCabinet-36Wx36Hx12D 2door
W3936 – prt –
$214.74096
[wp_cart:prt – W3936:price:214.74096:end]
WallCabinet-39Wx36Hx12D 2door
W4236 – prt –
$230.33872
[wp_cart:prt – W4236:price:230.33872:end]
WallCabinet-42Wx36Hx12D 2door
W0942 – prt –
$97.60608
[wp_cart:prt – W0942:price:97.60608:end]
WallCabinet-9Wx42Hx12D 1door
W1242 – prt –
$121.028
[wp_cart:prt – W1242:price:121.028:end]
WallCabinet-12Wx42Hx12D 1door
W1542 – prt –
$128.83952
[wp_cart:prt – W1542:price:128.83952:end]
WallCabinet-15Wx42Hx12D 1door
W1842 – prt –
$138.5976
[wp_cart:prt – W1842:price:138.5976:end]
WallCabinet-18Wx42Hx12D 1door
W2142 – prt –
$144.46256
[wp_cart:prt – W2142:price:144.46256:end]
WallCabinet-21Wx42Hx12D 1door
W2442 – prt –
$152.26144
[wp_cart:prt – W2442:price:152.26144:end]
WallCabinet-24Wx42Hx12D 2door
W2742 – prt –
$183.50752
[wp_cart:prt – W2742:price:183.50752:end]
WallCabinet-27Wx42Hx12D 2door
W3042 – prt –
$191.3064
[wp_cart:prt – W3042:price:191.3064:end]
WallCabinet-30Wx42Hx12D 2door
W3342 – prt –
$199.11792
[wp_cart:prt – W3342:price:199.11792:end]
WallCabinet-33Wx42Hx12D 2door
W3642 – prt –
$228.4048
[wp_cart:prt – W3642:price:228.4048:end]
WallCabinet-36Wx42Hx12D 2door
W3942 – prt –
$234.25712
[wp_cart:prt – W3942:price:234.25712:end]
WallCabinet-39Wx42Hx12D 2door
W4242 – prt –
$240.10944
[wp_cart:prt – W4242:price:240.10944:end]
WallCabinet-42Wx42Hx12D 2door
WDC2430 – prt –
$247.27632
[wp_cart:prt – WDC2430:price:247.27632:end]
WallDiagonal-24Wx30Hx12D 1door
WDC243615 – prt –
$265.16192
[wp_cart:prt – WDC243615:price:265.16192:end]
WallDiagonal-24Wx36Hx15D 1door
WDC244215 – prt –
$291.18768
[wp_cart:prt – WDC244215:price:291.18768:end]
WallDiagonal-24Wx42Hx15D 1door
WMC2730 – prt –
$148.03968
[wp_cart:prt – WMC2730:price:148.03968:end]
WALLMICROWAVECOMBO27X30
WMC2736 – prt –
$159.42832
[wp_cart:prt – WMC2736:price:159.42832:end]
WALLMICROWAVECOMBO27X36
WMC2742 – prt –
$188.70256
[wp_cart:prt – WMC2742:price:188.70256:end]
WALLMICROWAVECOMBO27X42
W3012 – prt –
$95.64688
[wp_cart:prt – W3012:price:95.64688:end]
WallCabinet-30Wx12Hx12D 2door
W3015 – prt –
$109.31072
[wp_cart:prt – W3015:price:109.31072:end]
WallCabinet-30Wx15Hx12D 2door
W3018 – prt –
$122.9872
[wp_cart:prt – W3018:price:122.9872:end]
WallCabinet-30Wx18Hx12D 2door
W3024 – prt –
$161.04624
[wp_cart:prt – W3024:price:161.04624:end]
WallCabinet-30Wx24Hx12D 2door
W3612 – prt –
$117.13488
[wp_cart:prt – W3612:price:117.13488:end]
WallCabinet-36Wx12Hx12D 2door
W3615 – prt –
$144.46256
[wp_cart:prt – W3615:price:144.46256:end]
WallCabinet-36Wx15Hx12D 2door
W3618 – prt –
$163.97872
[wp_cart:prt – W3618:price:163.97872:end]
WallCabinet-36Wx18Hx12D 2door
W3624 – prt –
$212.78176
[wp_cart:prt – W3624:price:212.78176:end]
WallCabinet-36Wx24Hx12D 2door
W361227 – prt –
$140.5568
[wp_cart:prt – W361227:price:140.5568:end]
WallCabinet-36Wx12Hx27D 2door
W361527 – prt –
$148.35568
[wp_cart:prt – W361527:price:148.35568:end]
WallCabinet-36Wx15Hx27D 2door
W361827 – prt –
$173.74944
[wp_cart:prt – W361827:price:173.74944:end]
WallCabinet-36Wx18Hx27D 2door
W362427 – prt –
$203.35232
[wp_cart:prt – W362427:price:203.35232:end]
WallCabinet-36Wx24Hx27D 2door
WEC1230 – prt –
$121.028
[wp_cart:prt – WEC1230:price:121.028:end]
WALLENDCORNER2D
WEC1236 – prt –
$140.5568
[wp_cart:prt – WEC1236:price:140.5568:end]
WALLENDCORNER2D
WEC1242 – prt –
$156.1672
[wp_cart:prt – WEC1242:price:156.1672:end]
WALLENDCORNER2D
WEOS0930 – prt –
$66.37264
[wp_cart:prt – WEOS0930:price:66.37264:end]
WALLENDOPENSHELF
WEOS0936 – prt –
$70.2784
[wp_cart:prt – WEOS0936:price:70.2784:end]
WALLENDOPENSHELF
WEOS0942 – prt –
$85.90144
[wp_cart:prt – WEOS0942:price:85.90144:end]
WALLENDOPENSHELF
B09 – prt –
$126.89296
[wp_cart:prt – B09:price:126.89296:end]
base9Wx34.5Hx24D 1door
B12 – prt –
$136.65104
[wp_cart:prt – B12:price:136.65104:end]
base12Wx34.5Hx24D 1door
B15 – prt –
$146.42176
[wp_cart:prt – B15:price:146.42176:end]
base15Wx34.5Hx24D 1door
B18 – prt –
$152.26144
[wp_cart:prt – B18:price:152.26144:end]
base18Wx34.5Hx24D 1door
bwb18 – prt –
$226.4456
[wp_cart:prt – bwb18:price:226.4456:end]
BWBKT18(Trash Base)
B21 – prt –
$167.88448
[wp_cart:prt – B21:price:167.88448:end]
base21Wx34.5Hx24D 1door
B24 – prt –
$191.3064
[wp_cart:prt – B24:price:191.3064:end]
base24Wx34.5Hx24D 2door
B27 – prt –
$203.01104
[wp_cart:prt – B27:price:203.01104:end]
base27Wx34.5Hx24D 2door
DSK30 – prt –
$191.14208
[wp_cart:prt – DSK30:price:191.14208:end]
desk knee drawer 30w x 21d
B30 – prt –
$214.74096
[wp_cart:prt – B30:price:214.74096:end]
base30Wx34.5Hx24D 2door
B33 – prt –
$228.4048
[wp_cart:prt – B33:price:228.4048:end]
base33Wx34.5Hx24D 2door
B36 – prt –
$240.10944
[wp_cart:prt – B36:price:240.10944:end]
base36Wx34.5Hx24D 2door
B39 – prt –
$257.69168
[wp_cart:prt – B39:price:257.69168:end]
base39Wx34.5Hx24D 2door
B42 – prt –
$281.1136
[wp_cart:prt – B42:price:281.1136:end]
base42Wx34.5Hx24D 2door
SBA36 – prt –
$312.34704
[wp_cart:prt – SBA36:price:312.34704:end]
ANGLEFRONTSINKBASE36X36
SB36 – prt –
$203.01104
[wp_cart:prt – SB36:price:203.01104:end]
sinkbase36Wx34.5Hx24D 2door
SB42 – prt –
$226.4456
[wp_cart:prt – SB42:price:226.4456:end]
sinkbase42Wx34.5Hx24D 2door
BBC36 – prt –
$183.50752
[wp_cart:prt – BBC36:price:183.50752:end]
?basecorner36Wx34.5Hx24D blind base 39TO42FOOTPRINT
BBC42 – prt –
$193.25296
[wp_cart:prt – BBC42:price:193.25296:end]
basecorner42Wx34.5Hx24D blind base 45TO48FOOTPRINT
LZS3309 – prt –
$294.77744
[wp_cart:prt – LZS3309:price:294.77744:end]
LAZYSUSANCORNERBASE33X33NO-SPINNER
LZS3612 – prt –
$324.05168
[wp_cart:prt – LZS3612:price:324.05168:end]
LAZYSUSANCORNERBASE36X36NO-SPINNER
BES09 – prt –
$87.848
[wp_cart:prt – BES09:price:87.848:end]
BASENDSHELF
SP09 – prt –
$148.35568
[wp_cart:prt – SP09:price:148.35568:end]
SPICEBASEPULLOUT-FHD
DB12 – prt –
$197.17136
[wp_cart:prt – DB12:price:197.17136:end]
basedrawers12Wx34.5Hx24D 0door3drwr
DB15 – prt –
$203.01104
[wp_cart:prt – DB15:price:203.01104:end]
basedrawers15Wx34.5Hx24D 0door3drwr
DB18 – prt –
$218.63408
[wp_cart:prt – DB18:price:218.63408:end]
basedrawers18Wx34.5Hx24D 0door3drwr
DB21 – prt –
$228.4048
[wp_cart:prt – DB21:price:228.4048:end]
basedrawers21Wx34.5Hx24D 0door3drwr
DB24 – prt –
$251.82672
[wp_cart:prt – DB24:price:251.82672:end]
basedrawers24Wx34.5Hx24D 0door3drwr
DB30 – prt –
$316.24016
[wp_cart:prt – DB30:price:316.24016:end]
basedrawers30Wx34.5Hx24D 0door3drwr
DB36 – prt –
$353.33856
[wp_cart:prt – DB36:price:353.33856:end]
basedrawers36Wx34.5Hx24D 0door3drwr
WRC3018 – prt –
$133.38992
[wp_cart:prt – WRC3018:price:133.38992:end]
WINERACK
WRC3030 – prt –
$141.53008
[wp_cart:prt – WRC3030:price:141.53008:end]
WINERACK
WRC3036 – prt –
$149.67024
[wp_cart:prt – WRC3036:price:149.67024:end]
WINERACK
WRC3618 – prt –
$161.04624
[wp_cart:prt – WRC3618:price:161.04624:end]
WINERACK
GH30 – prt –
$40.67552
[wp_cart:prt – GH30:price:40.67552:end]
STEMGLASSHOLDER
GH36 – prt –
$48.81568
[wp_cart:prt – GH36:price:48.81568:end]
STEMGLASSHOLDER
WG1230 – prt –
$40.67552
[wp_cart:prt – WG1230:price:40.67552:end]
WALLGLASSDOORONLY-W/MULLION-X1
WG1530 – prt –
$50.4336
[wp_cart:prt – WG1530:price:50.4336:end]
WALLGLASSDOORONLY-W/MULLION-X1
WG1830 – prt –
$60.19168
[wp_cart:prt – WG1830:price:60.19168:end]
WALLGLASSDOORONLY-W/MULLION-X1
WG1236 – prt –
$48.81568
[wp_cart:prt – WG1236:price:48.81568:end]
WALLGLASSDOORONLY-W/MULLION-X1
WG1536 – prt –
$58.56112
[wp_cart:prt – WG1536:price:58.56112:end]
WALLGLASSDOORONLY-W/MULLION-X1
WG1836 – prt –
$68.3192
[wp_cart:prt – WG1836:price:68.3192:end]
WALLGLASSDOORONLY-W/MULLION-X1
WG1242 – prt –
$56.93056
[wp_cart:prt – WG1242:price:56.93056:end]
WALLGLASSDOORONLY-W/MULLION-X1
WG1542 – prt –
$66.70128
[wp_cart:prt – WG1542:price:66.70128:end]
WALLGLASSDOORONLY-W/MULLION-X1
WG1842 – prt –
$76.45936
[wp_cart:prt – WG1842:price:76.45936:end]
WALLGLASSDOORONLY-W/MULLION-X1
WDCG243012 – prt –
$58.56112
[wp_cart:prt – WDCG243012:price:58.56112:end]
WALLGLASSDOORONLY-W/MULLION-X1
WDCG243615 – prt –
$65.07072
[wp_cart:prt – WDCG243615:price:65.07072:end]
WALLGLASSDOORONLY-W/MULLION-X1
WDCG244215 – prt –
$71.58032
[wp_cart:prt – WDCG244215:price:71.58032:end]
WALLGLASSDOORONLY-W/MULLION-X1
VDB12 – prt –
$188.70256
[wp_cart:prt – VDB12:price:188.70256:end]
VANITY3DRWR-34.5HX21D
VDB15 – prt –
$195.21216
[wp_cart:prt – VDB15:price:195.21216:end]
VANITY3DRWR-34.5HX21D
VDB18 – prt –
$210.67088
[wp_cart:prt – VDB18:price:210.67088:end]
VANITY3DRWR-34.5HX21D
VAN24 – prt –
$152.26144
[wp_cart:prt – VAN24:price:152.26144:end]
VANITY2DOORFALSEDRWR34.5HX21D
VAN30 – prt –
$183.50752
[wp_cart:prt – VAN30:price:183.50752:end]
VANITY2DOORFALSEDRWR34.5HX21D
VAN30DL – prt –
$201.07712
[wp_cart:prt – VAN30DL:price:201.07712:end]
VANITYDOOR2DRWR(L)FALSETOPDRWR34.5HX21D
VAN30DR – prt –
$201.07712
[wp_cart:prt – VAN30DR:price:201.07712:end]
VANITYDOOR2DRWR(R)FALSETOPDRWR34.5HX21D
VAN36DL – prt –
$226.4456
[wp_cart:prt – VAN36DL:price:226.4456:end]
VAN24+VD12L
VAN36DR – prt –
$226.4456
[wp_cart:prt – VAN36DR:price:226.4456:end]
VAN24+VD12R
VAN42DL – prt –
$322.10512
[wp_cart:prt – VAN42DL:price:322.10512:end]
VAN30+VD12R
VAN42DR – prt –
$322.10512
[wp_cart:prt – VAN42DR:price:322.10512:end]
VAN30+VD12L
VAN48D-6 – prt –
$421.65776
[wp_cart:prt – VAN48D-6:price:421.65776:end]
VANITYSINGLEBOWLVD12+VAN24+VD12
VAN60D-6 – prt –
$513.41152
[wp_cart:prt – VAN60D-6:price:513.41152:end]
?VANITYSINGLEBOWLVD12+VAN36+VD13
VAN60DD-3 – prt –
$513.41152
[wp_cart:prt – VAN60DD-3:price:513.41152:end]
VANITYDOUBLESINKVAN24+VD12+VAN24
VAN72DD-3 – prt –
$530.98112
[wp_cart:prt – VAN72DD-3:price:530.98112:end]
VANITYDOUBLESINKVAN30+VD12+VAN30
WP188427 – prt –
$430.27824
[wp_cart:prt – WP188427:price:430.27824:end]
WALLPANTRY27D
WP189027 – prt –
$486.39984
[wp_cart:prt – WP189027:price:486.39984:end]
WALLPANTRY27D
WP189627 – prt –
$514.05616
[wp_cart:prt – WP189627:price:514.05616:end]
WALLPANTRY27D
WP248427 – prt –
$507.5592
[wp_cart:prt – WP248427:price:507.5592:end]
WALLPANTRY27D
WP249027 – prt –
$520.56576
[wp_cart:prt – WP249027:price:520.56576:end]
WALLPANTRY27D
WP249627 – prt –
$546.59152
[wp_cart:prt – WP249627:price:546.59152:end]
WALLPANTRY27D
OVD338427 – prt –
$569.38144
[wp_cart:prt – OVD338427:price:569.38144:end]
OVENCABDOUBLE27D-2TOPDOORW1BOTDRWR
OVD339027 – prt –
$626.312
[wp_cart:prt – OVD339027:price:626.312:end]
OVENCABDOUBLE27D-2TOPDOORW1BOTDRWR
OVD339627 – prt –
$655.58624
[wp_cart:prt – OVD339627:price:655.58624:end]
OVENCABDOUBLE27D-2TOPDOORW1BOTDRWR
CORBEL – prt –
$97.60608
[wp_cart:prt – CORBEL:price:97.60608:end]
CORBEL 6″
WDD30 – prt –
$48.81568
[wp_cart:prt – WDD30:price:48.81568:end]
DECORATIVEDOOR
WDD36 – prt –
$52.86048
[wp_cart:prt – WDD36:price:52.86048:end]
DECORATIVEDOOR
WDD42 – prt –
$56.93056
[wp_cart:prt – WDD42:price:56.93056:end]
DECORATIVEDOOR
BDD24 – prt –
$89.46592
[wp_cart:prt – BDD24:price:89.46592:end]
BASEDECORATIVEDOOR
BF3 – prt –
$19.5288
[wp_cart:prt – BF3:price:19.5288:end]
BF3(Base Filler 3″)
BF6 – prt –
$39.04496
[wp_cart:prt – BF6:price:39.04496:end]
BF6(Base Filler 6″)
bep3 – prt –
$52.06416
[wp_cart:prt – bep3:price:52.06416:end]
DWP3(Dish washer Panel)
CCM8 – prt –
$89.46592
[wp_cart:prt – CCM8 :price:89.46592:end]
CROWNMOLD4.5W
LMD – prt –
$73.21088
[wp_cart:prt – LMD:price:73.21088:end]
DECORATIVEFILLER4X96X7/8
LMW – prt –
$73.21088
[wp_cart:prt – LMW:price:73.21088:end]
DECORATIVEFILLER4X96X7/9
VAL36 – prt –
$29.28688
[wp_cart:prt – VAL36:price:29.28688:end]
VALANCEROMANARCH6-3-6
VAL42 – prt –
$35.78384
[wp_cart:prt – VAL42:price:35.78384:end]
VALANCEROMANARCH6-3-6
VAL48 – prt –
$40.67552
[wp_cart:prt – VAL48:price:40.67552:end]
VALANCEROMANARCH6-3-6
dm8 – prt –
$22.77728
[wp_cart:prt – dm8:price:22.77728:end]
DENTAL MOLDING1X.75X96
rm8 – prt –
$22.77728
[wp_cart:prt – rm8:price:22.77728:end]
ROPE MOLDING1X.75X96
pnl3x8 – prt –
$97.60608
[wp_cart:prt – pnl3x8:price:97.60608:end]
PANEL 36X96X1/8
TLR8 – prt –
$48.81568
[wp_cart:prt – TLR8:price:48.81568:end]
LIGHTRAIL
RRPR – prt –
$73.21088
[wp_cart:prt – RRPR:price:73.21088:end]
RRPR
REP96 – prt –
$113.8864
[wp_cart:prt – REP96:price:113.8864:end]
REFRIGPANEL3X24D
OCM8 – prt –
$21.14672
[wp_cart:prt – OCM8:price:21.14672:end]
ANGLE MOLDING OUTSIDECORNER
QTR8 – prt –
$21.14672
[wp_cart:prt – QTR8:price:21.14672:end]
SHOEMOLDING
SM8 – prt –
$21.14672
[wp_cart:prt – SM8:price:21.14672:end]
SCRIBEMOLDING
TK8 – prt –
$22.77728
[wp_cart:prt – TK8:price:22.77728:end]
TK8 (Toe Kick)
WF3 – prt –
$16.28032
[wp_cart:prt – WF3:price:16.28032:end]
filler3Wx30Hx0.75D
WF336 – prt –
$19.5288
[wp_cart:prt – WF336:price:19.5288:end]
filler3Wx36Hx0.75D
WF342 – prt –
$22.77728
[wp_cart:prt – WF342:price:22.77728:end]
filler3Wx42Hx0.75D
WF642 – prt –
$45.54192
[wp_cart:prt – WF642:price:45.54192:end]
filler6Wx42Hx0.75D
WF396 – prt –
$52.06416
[wp_cart:prt – WF396:price:52.06416:end]
filler3Wx96Hx0.75D
WF696 – prt –
$134.21152
[wp_cart:prt – WF696:price:134.21152:end]
filler6Wx96Hx0.75D
DLS – prt –
$138.2816
[wp_cart:prt – DLS:price:138.2816:end]
LEG
WF396F – prt –
$65.07072
[wp_cart:prt – WF396F:price:65.07072:end]
FLUTEDFILLERNOMEDALION
TUK – prt –
$12.21024
[wp_cart:prt – TUK:price:12.21024:end]
TOUCHUPKIT
ROSE – prt –
$12.21024
[wp_cart:prt – ROSE:price:12.21024:end]
ROSETTE3X3
PORT (L-1) burgundy Flat Panel – economy/builder grade – RTA ships from LA
call 386-761-4946