Kitchen Cabinet Heights, Widths and Depths
In the USA market for construction materials, there are many standardized specifications and common nomenclatures. For instance, we've all heard of a "two by four" used to describe that particular stick of lumber but not a 4×2 or a size description of a sheet of plywood is normally labled as a four by eight. In the World of Cabinets, there are the same common descriptions and nomenclatures that are easy to understand and by watching this video, you will be able to layout your own kitchen design which will save time and money on your kitchen remodel.
In a very basic sense, there are only two types of cabinets that we need to understand.
Wall Cabinets and Base Cabinets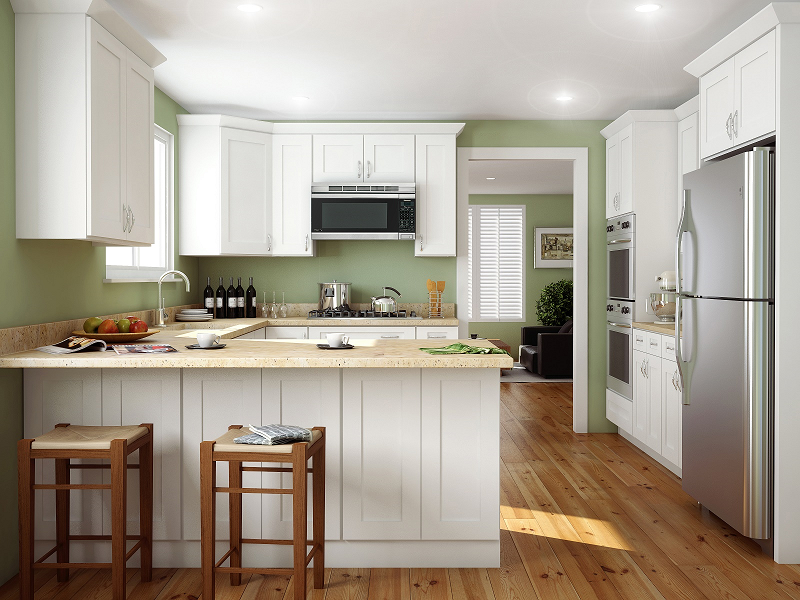 There are certainly other classes of cabinets but it's important to understand these two basic types of cabinetry. It's also important to note that in the U.S. wall cabinets are typically 12 inches deep and base cabinets are 24 inches deep. Base cabinets are all 34.5 inches tall as well so, these standard dimensions are rarely noted in the cabinet descriptions. When you see something like "B15" listed on a contractors invoice. You will know that this is a standard base cabinet 15 wide by 34.5 tall and 24 deep. Because wall cabinets will vary by width and height you will see something like "W1530" which describes a wall cabinet that is 15 inches wide and thirty inches tall and 12 deep. Like most construction materials, the width is always listed first.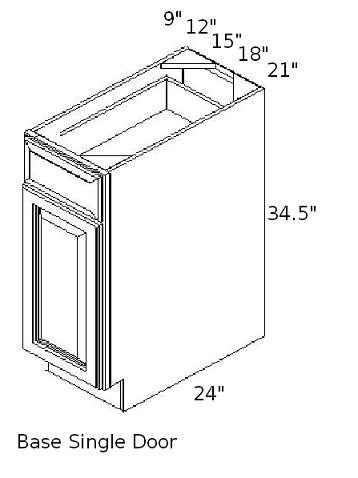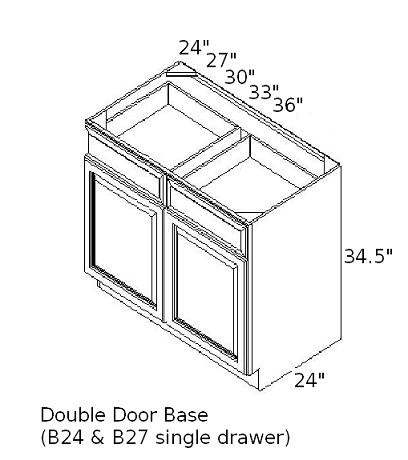 The widths for standard wall and base cabinets range from 9 to 36 inches wide moving in 3 inch increments.
B09 B12 B15 B18 B21 B24 B27 B30 B33 B36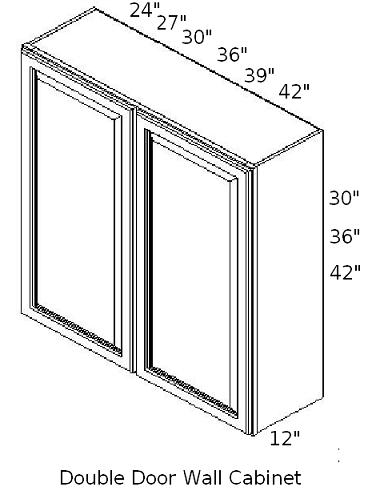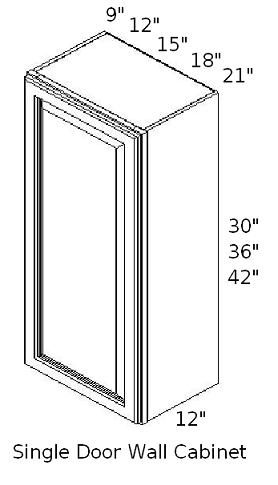 Wall Cabinets typically come in either 30, 36 or 42 inches.
W0930 W1230 W1530 W1830 W2130 W2430 W2730 W3030 W3330 W3630
W0936 W1236 W1536 W1836 W2136 W2436 W2736 W3036 W3336 W3636
W0942 W1242 W1542 W1842 W2142 W2442 W2742 W3042 W3342 W3642
Other variations
and exceptions to the size standards do exist but, you will find that these modular cabinet (3″) dimensions will make up the vast majority of the US Cabinet Industry's Inventory.
As we start to move beyond the very basic cabinetry I should mention some of the common specialty cabinets, most of which are just slight variations of standard boxes.
Like "bridge" cabinets
which are simply wall cabinets that span over your appliances. typically 30 or 36 wide and 12, 15, 18 or 24 tall.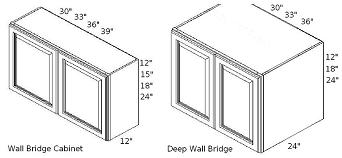 Sink base cabinets
which are basic base cabinets without a working a top drawer, typically 30 or 36 wide.
Corner cabinets
are usually diagonal faced or ninety degree "pie cuts" but many designers elect to use blind corners…or of course the cheapest method is to void the corners and use no cabinets in the corner at all!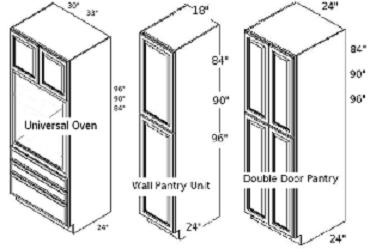 Tall Cabinets
include oven cabinets (usually 33 wide) and pantry cabinets 18 or 24 wide. Talls are all 24 deep and come in heights of 84, 90 or 96 high.
Vanity Cabinets
are very much built like kitchen base cabinets but the standard is 21″ deep. Some lines may offer slightly shorter than 34.5 high but most manufacturers have changed to "adult height" which is the same (34.5) as kitchen cabinets.
There is a huge array of other specialty cabinets which might include wine racks, plate racks, drawer banks, microwave shelves, etc. There is also an almost endless offering of cabinet accessories, roll out shelves, spice rack, pull outs and still more trims, moldings, panels and decorative additions.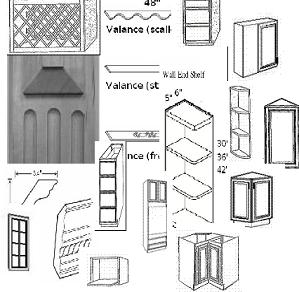 While there is much more to know about cabinetry and the layout of your kitchen, this article was designed to give you a leg up on kitchen design and to help you shop for your remodel supplies.
For the best Price on your cabinets…
Contact the RTACABINETMALL.com
800-322-2772
if you mention this article and tell me that you have designed your own kitchen and are ready to buy our cabinets ….I'll give you a special discount code to use online.