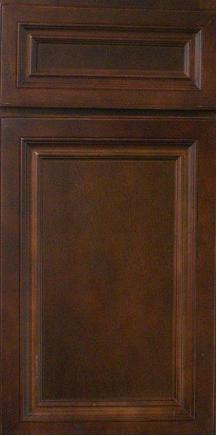 The Java is a coffee stained (birch).  The rich burnt color allows just a hint of grain variations. The door's are a traditional recessed panel, full overlay (1/4″ reveal) design, frame construction helps blend the grain patterns. The drawer faces are a matching 5piece,  recessed panel and the drawer boxes are Solid Wood sides(3/5birch) with plywood bottom panel natural finish Cabinet Box construction is 1/2 inch furniture grade plywood with  pre cut dado slots. NO PRE-SET ASSEMBLY POINTS (staple gun or clamps suggested to aid assembly)  The interior panels are natural stained. Ships from NC with a typical processing time of 72 hours.  Customer Pickups available in Raleigh with pre approved contracts.
Free Freight Included in these prices (most US addresses lower 48 – Minimum Purchase Required) – Orders of less than $1999 may have additional freight charges added.
Sales Tax is charged on FL destinations only (resale certificate exceptions). Cabinets will only be shipped to verified and confirmed paypal/credit card address.
Pre-arranged customer pick ups or "customer handled" commercial pick ups may be available.
Prices, Specifications and Availability subject to change without notice. If you have any questions please call 386-761-4946
Java
1. Cabinet Box: 1/2″, 7ply, plywood
2. Drawer Box: 5/8″ solid wood,
3. Drawer Slide: Full extension, undermount
4. Wood face and door frame: Chinese Birch
5. Door Hinge: DTC 6 way adjustable
6. Shelves: adjustable 3/4″ plywood
7. Cabinet interior finish: Natural
8. Cabinet exterior sides: Stained to match
9. Finish Color: Java
10. Glazing: None
11. Base corner Blocks: 3/4″ plywood
12. Face Frame: solid wood 1 1/2 rails&stiles
13. Door: 5piece, mitered w recessed panel
14. Drawer Head: 5 piece mitered w recessed panel
15. Approvals: KCMA, CARB, E1
16. Assembly: Glue/staples, no cams or brackets
17. Full Overlay with no center stiles
| | | | |
| --- | --- | --- | --- |
| Java SAMPLE DOOR | 25.00 | | (approx 12×12 door only) refundable* |
| W3012 – LNG | 89.34 | | WAll30w12d12h |
| W3612 – LNG | 110.78 | | WAll36w12d12h |
| W3912 – LNG | 121.5 | | WAll39w12d12h |
| W3015 – LNG | 110.78 | | WAll30w12d15h |
| W3315 – LNG | 120.78 | | WAll33w12d15h |
| W3615 – LNG | 123.64 | | WAll36w12d15h |
| W3915 – LNG | 138.65 | | WAll39w12d15h |
| W3018 – LNG | 142.94 | | WAll30w12d18h |
| W3318 – LNG | 152.23 | | WAll33w12d18h |
| W3618 – LNG | 164.38 | | WAll36w12d18h |
| W3918 – LNG | 175.1 | | WAll39w12d18h |
| W3021 – LNG | 157.23 | | WAll30w12d21h |
| W3024 – LNG | 175.1 | | wall30w12d24h |
| W3324 – LNG | 183.68 | | wall33w12d24h |
| W3624 – LNG | 196.54 | | wall36w12d24h |
| W3924 – LNG | 210.84 | | wall39w12d24h |
| W361824 – LNG | 202.97 | | 24″ Deep Wall (Refrigerator Cabinet) |
| W362424 – LNG | 235.85 | | 24″ Deep Wall (Refrigerator Cabinet) |
| W0930 – LNG | 87.19 | | 30″-36″ High Single Door Wall |
| W1230 – LNG | 100.06 | | 30″-36″ High Single Door Wall |
| W1530 – LNG | 112.21 | | 30″-36″ High Single Door Wall |
| W1830 – LNG | 128.65 | | 30″-36″ High Single Door Wall |
| W2130 – LNG | 143.65 | | 30″-36″ High Single Door Wall |
| W2430-2 – LNG | 170.81 | | |
| W0936 – LNG | 98.63 | | 30″-36″ High Single Door Wall |
| W1236 – LNG | 112.92 | | 30″-36″ High Single Door Wall |
| W1536 – LNG | 129.36 | | 30″-36″ High Single Door Wall |
| W1836 – LNG | 146.51 | | 30″-36″ High Single Door Wall |
| W2136 – LNG | 163.67 | | 30″-36″ High Single Door Wall |
| W2436 – LNG | 170.81 | | 30″-36″ High Double Door Wall |
| W2730 – LNG | 190.82 | | 30″-36″ High Double Door Wall |
| W3030 – LNG | 197.26 | | 30″-36″ High Double Door Wall |
| W3330 – LNG | 220.13 | | 30″-36″ High Double Door Wall |
| W3630 – LNG | 227.99 | | 30″-36″ High Double Door Wall |
| W3930 – LNG | 258.72 | | 30″-36″ High Double Door Wall |
| W2436 – LNG | 199.4 | | 30″-36″ High Double Door Wall |
| W2736 – LNG | 215.84 | | 30″-36″ High Double Door Wall |
| W3036 – LNG | 233.71 | | 30″-36″ High Double Door Wall |
| W3336 – LNG | 250.86 | | 30″-36″ High Double Door Wall |
| W3636 – LNG | 268.01 | | 30″-36″ High Double Door Wall |
| W3936 – LNG | 287.31 | | 30″-36″ High Double Door Wall |
| W4230 – LNG | 268.01 | | 30″-36″ High Double Door Wall w/ Center Stile |
| W4236 – LNG | 305.18 | | 30″-36″ High Double Door Wall w/ Center Stile |
| WBC2430 – LNG | 160.09 | | 30″-36″ High Blind Wall |
| WBC3030 – LNG | 181.53 | | 30″-36″ High Blind Wall |
| WBC3630 – LNG | 207.98 | | 30″-36″ High Blind Wall |
| WBC2436 – LNG | 175.1 | | 30″-36″ High Blind Wall |
| WBC3036 – LNG | 200.12 | | 30″-36″ High Blind Wall |
| WBC3636 – LNG | 231.56 | | 30″-36″ High Blind Wall |
| WDC2430 – LNG | 214.41 | | 30″-36″ High Corner Wall |
| WDC2730 – LNG | 250.14 | | 30″-36″ High Corner Wall |
| WDC2436 – LNG | 240.85 | | 30″-36″ High Corner Wall |
| WDC2736 – LNG | 275.16 | | 30″-36″ High Corner Wall |
| W0942 – LNG | 117.21 | | 42″ High Single Door Wall |
| W1242 – LNG | 134.36 | | 42″ High Single Door Wall |
| W1542 – LNG | 152.95 | | 42″ High Single Door Wall |
| W1842 – LNG | 174.39 | | 42″ High Single Door Wall |
| W2142 – LNG | 194.4 | | 42″ High Single Door Wall |
| W2442 – LNG | 230.13 | | 42″ High Double Door Wall |
| W2742 – LNG | 256.58 | | 42″ High Double Door Wall |
| W3042 – LNG | 277.3 | | 42″ High Double Door Wall |
| W3342 – LNG | 297.32 | | 42″ High Double Door Wall |
| W3642 – LNG | 318.04 | | 42″ High Double Door Wall |
| W3942 – LNG | 341.63 | | 42″ High Double Door Wall |
| W4242 – LNG | 361.64 | | 42″ High Double Door Wall w/ Center Stile |
| WBC2442 – LNG | 215.84 | | 42″ High Blind Wall |
| WBC3042 – LNG | 244.43 | | 42″ High Blind Wall |
| WBC3642 – LNG | 290.88 | | 42″ High Blind Wall |
| WDC2442 – LNG | 305.18 | | 42″ High Corner Wall |
| WDC2742 – LNG | 326.62 | | 42″ High Corner Wall |
| WA1230 – LNG | 117.93 | | Wall End Cabinet |
| WA1236 – LNG | 135.79 | | Wall End Cabinet |
| WA1242 – LNG | 157.23 | | Wall End Cabinet |
| wes30 – LNG | 48.6 | | Wall End Shelf |
| wes36 – LNG | 55.75 | | Wall End Shelf |
| wes42 – LNG | 62.18 | | Wall End Shelf |
| WMC303318 – LNG | 256.58 | | Wall Microwave Cabinet |
| WMC303918 – LNG | 278.02 | | Wall Microwave Cabinet |
| WMC304518 – LNG | 291.6 | | Wall Microwave Cabinet |
| DWR1548 – LNG | 325.19 | | Wall Tower w/ 3 Drawers |
| DWR1554 – LNG | 343.06 | | Wall Tower w/ 3 Drawers |
| DWR1560 – LNG | 371.64 | | Wall Tower w/ 3 Drawers |
| WO30 – LNG | 83.62 | | Wall Organizer |
| WO36 – LNG | 99.34 | | Wall Organizer |
| WR3018 – LNG | 156.52 | | Wine Rack |
| B09 – LNG | 125.79 | | Single Door Full Height Base |
| B12 – LNG | 172.96 | | Single Door Standard Base |
| B15 – LNG | 188.68 | | Single Door Standard Base |
| B18 – LNG | 203.69 | | Single Door Standard Base |
| B21 – LNG | 220.13 | | Single Door Standard Base |
| B24 – LNG | 243 | | Double Door Standard Base |
| B27 – LNG | 300.17 | | Double Door Standard Base |
| B30 – LNG | 308.75 | | Double Door Standard Base |
| B33 – LNG | 335.19 | | Double Door Standard Base |
| B36 – LNG | 342.34 | | Double Door Standard Base |
| B39 – LNG | 349.49 | | Double Door Standard Base |
| B42 – LNG | 360.21 | | Double Door Standard Base w/ Center Stile |
| DB12 – LNG | 261.58 | | Drawer Base |
| DB15 – LNG | 289.45 | | Drawer Base |
| DB18 – LNG | 310.89 | | Drawer Base |
| DB24 – LNG | 355.21 | | Drawer Base |
| DB30 – LNG | 405.23 | | Drawer Base |
| DB36 – LNG | 455.26 | | Drawer Base |
| CC30 – LNG | 421.67 | | Cooking Center |
| TRB18FH-2 – LNG | 381.65 | | Trash Can Base (full height) |
| SB30 – LNG | 218.7 | | Sink Base |
| SB33 – LNG | 231.56 | | Sink Base |
| SB36 – LNG | 238 | | Sink Base |
| SB42 – LNG | 273.02 | | Sink Base w/ Center Stile |
| SB48 – LNG | 315.9 | | Sink Base |
| CSF42 – LNG | 110.06 | | Corner Sink Front |
| CSF42-FLOOR – LNG | 15.72 | | Corner Sink Front Floor |
| BBC36 – LNG | 289.45 | | Blind Base |
| BBC42 – LNG | 328.05 | | Blind Base |
| BBC48 – LNG | 360.92 | | Blind Base |
| EZR33 – LNG | 339.48 | | Easy Reach |
| EZR36 – LNG | 365.21 | | Easy Reach |
| BE12L – LNG | 212.98 | | Angle Base |
| BE12R – LNG | 212.98 | | Angle Base |
| DDB18 – LNG | 268.73 | | Desk Drawer Base |
| WP1884 – LNG | 453.12 | | Single Door Pantry |
| WP1890 – LNG | 488.85 | | Single Door Pantry |
| WP1896 – LNG | 508.87 | | Single Door Pantry |
| WP2484 – LNG | 561.04 | | Double Door Pantry |
| WP2490 – LNG | 579.62 | | Double Door Pantry |
| WP2496 – LNG | 623.22 | | Double Door Pantry |
| OC3384 – LNG | 698.26 | | Oven Cabinet |
| OC3390 – LNG | 734.71 | | Oven Cabinet |
| OC3396 – LNG | 784.74 | | Oven Cabinet |
| OP3333 – LNG | 78.62 | | Oven Cabinet Overlay Panel |
| OP3348 – LNG | 83.62 | | Oven Cabinet Overlay Panel |
| OP3353 – LNG | 88.62 | | Oven Cabinet Overlay Panel |
| OP3362 – LNG | 94.34 | | Oven Cabinet Overlay Panel |
| OCD337 – LNG | 190.11 | | Oven Cabinet Drawer |
| VB24 – LNG | 167.95 | | Double Door Vanity |
| VB27 – LNG | 195.83 | | Double Door Vanity |
| VB30 – LNG | 202.97 | | Double Door Vanity |
| VB33 – LNG | 222.99 | | Double Door Vanity |
| VB36 – LNG | 236.57 | | Double Door Vanity |
| VBTD12 – LNG | 161.52 | | Single Door Vanity Base |
| VBTD15 – LNG | 175.82 | | Single Door Vanity Base |
| VBTD18 – LNG | 189.4 | | Singe Door Vanity Base |
| VD12 – LNG | 257.29 | | Vanity Drawer Base |
| VD15 – LNG | 278.02 | | Vanity Drawer Base |
| VD18 – LNG | 299.46 | | Vanity Drawer Base |
| VBTD36 – LNG | 326.62 | | Vanity Sink Base |
| VBTD42 – LNG | 361.64 | | Vanity Sink Base |
| VBTD48 – LNG | 403.81 | | Vanity Sink Base |
| DSK24 – LNG | 95.06 | | Vanity Drawer |
| DSK36 – LNG | 124.36 | | Vanity Drawer |
| TK8 – LNG | 10.72 | | Toe Kick |
| SM8 – LNG | 13.58 | | Scribe |
| QTR8 – LNG | 12.86 | | Shoe Molding |
| FBM8 – LNG | 59.32 | | Furniture Base Molding |
| CM8 – LNG | 42.17 | | Traditional Crown Molding |
| CM8-C – LNG | 85.76 | | Large Crown Molding |
| CM8-R – LNG | 89.34 | | Royal Crown Molding |
| DM8 – LNG | 18.58 | | Dentil Molding |
| RM8 – LNG | 18.58 | | Rope Molding |
| OCM8 – LNG | 15.72 | | Outside Corner Molding |
| TLRM8 – LNG | 85.76 | | Traditional Light Rail Molding |
| LRM8 – LNG | 42.88 | | Bottom Edge Molding (Narrow Light Rail) |
| PNL4X8 – LNG | 117.93 | | Back Panel – Long Grain |
| BBP4842 – LNG | 66.47 | | Bead Board |
| PNL4X8F – LNG | 145.08 | | 1/2″ Think Finished Plywood Filler |
| BEP3 – LNG | 50.03 | | Dishwasher End Panel |
| REP96 – LNG | 140.08 | | Tall End Panel (Refrigerator Panel) |
| BEP96 – LNG | 97.2 | | Bookcase End |
| WF396 – LNG | 33.59 | | Filler |
| WF696 – LNG | 67.18 | | Filler |
| WF330O – LNG | 21.44 | | Overlay Filler |
| WF336O – LNG | 25.01 | | Overlay Filler |
| WF342O – LNG | 28.59 | | Overlay Filler |
| WF384O – LNG | 71.47 | | Overlay Filler |
| WF390O – LNG | 77.19 | | Overlay Filler |
| WF396O – LNG | 81.48 | | Overlay Filler |
| WF630O – LNG | 42.88 | | Overlay Filler |
| WF330W – LNG | 20.73 | | Wall Fluted Filler |
| WF336W – LNG | 22.16 | | Wall Fluted Filler |
| WF342W – LNG | 25.01 | | Wall Fluted Filler |
| WF396W – LNG | 60.75 | | Fluted Filler |
| AFF330 – LNG | 32.16 | | Angled Fluted Filler |
| CORSM – LNG | 24.3 | | Corbels |
| CORCM – LNG | 144.37 | | Corbels |
| CORCL – LNG | 160.81 | | Corbels |
| BLOCK – LNG | 26.44 | | Column and Spindle System |
| SPINDLE – LNG | 17.87 | | Column and Spindle System |
| FC36 – LNG | 63.61 | | Column and Spindle System |
| FC96 – LNG | 136.51 | | Column and Spindle System |
| TBUNFOOT – LNG | 50.03 | | Bunfeet |
| TPOSTP3 – LNG | 90.05 | | Turned Post |
| TPOSTP5 – LNG | 137.22 | | Turned Post |
| VAL31 – LNG | 38.59 | | Furniture Valance |
| VAL37 – LNG | 42.17 | | Furniture Valance |
| VAL43 – LNG | 45.74 | | Furniture Valance |
| VRP42 – LNG | 84.33 | | Raised Panel Valance |
| VRP48 – LNG | 102.92 | | Raised Panel Valance |
| W1530GD – LNG | 65.75 | | Mullion Doors |
| W1536GD – LNG | 80.05 | | Mullion Doors |
| W1542GD – LNG | 92.2 | | Mullion Doors |
| W1830GD – LNG | 81.48 | | Mullion Doors |
| W1836GD – LNG | 99.34 | | Mullion Doors |
| W1842GD – LNG | 114.35 | | Mullion Doors |
| WDC2430GD – LNG | 65.75 | | Mullion Doors |
| WDC2436GD – LNG | 80.05 | | Mullion Doors |
| WDC2442GD – LNG | 92.2 | | Mullion Doors |
| WDEP30 – LNG | 65.75 | | Decorative Wall Panel |
| WDEP36 – LNG | 76.47 | | Decorative Wall Panel |
| WDEB42 – LNG | 86.48 | | Decorative Wall Panel |
| BDEP – LNG | 131.5 | | Decorative Wall Panel |
| ROT15 – LNG | 40.23 | | Roll Out Tray |
| ROT18 – LNG | 43.88 | | Roll Out Tray |
| ROT21 – LNG | 46.32 | | Roll Out Tray |
| ROT24 – LNG | 49.98 | | Roll Out Tray |
| ROT27 – LNG | 53.64 | | Roll Out Tray |
| ROT30 – LNG | 56.07 | | Roll Out Tray |
| ROT36 – LNG | 60.95 | | Roll Out Tray |
| LSK – LNG | 136.53 | | Lazy Susan Kit |
| TCCK181 – LNG | 67.05 | | Trash Can Insert for B18 |
| TCCK182 – LNG | 76.8 | | Trash Can Insert for B18 |
| SRI9 – LNG | 54.86 | | Spice Rack Insert |
| CDI14 – LNG | 30.48 | | Cutlery Drawer Insert |
| CDI20 – LNG | 42.67 | | Cutlery Drawer Insert |
| SRD12 – LNG | 43.88 | | Spice Rack Door Attachment |
| SRD15 – LNG | 51.2 | | Spice Rack Door Attachment |
| STI14 – LNG | 34.13 | | Spice Tray Insert |
| STI20 – LNG | 43.88 | | Spice Tray Insert |
| SWR3012 – LNG | 51.2 | | Stemware Rack |
| SHELF1296 – LNG | 35.35 | | Shelf |
| SHELF1296 – LNG | 30.48 | | Shelf (Natural) |
| SHELF2496 – LNG | 60.95 | | Shelf (Natural) |
| tuk – LNG | 12.19 | | Touch Up Kit |
| PAB – LNG | 6.1 | | Assembly Blocks |
| DAMPER – LNG | 274.28 | | Door Damper |
| SOFTCLOSE – LNG | 1.52 | | Soft Close Hinge |
| RV-3072-18-11-52 – LNG | 37.91 | | 18″ Value Line Full Circle Lazy Susan Set, Individual Pack |
| RV-3073-18-11-531 – LNG | 56.2 | | 18″ Value Line Full Circle Lazy Susan 3-Tray Set (for 33-41) |
| RV-3073-18-11-536 – LNG | 60.38 | | 18″ Value Line Full Circle Lazy Susan 3-Tray Set (for 38-46) |
| RV-3072-20-11-52 – LNG | 44.19 | | 20″ Value Line Full Circle Lazy Susan Set, Individual Pack |
| RV-3073-20-11-531 – LNG | 65.4 | | 20″ Value Line Full Circle Lazy Susan 3-Tray Set (for 33-41) |
| RV-3073-20-11-536 – LNG | 69.46 | | 20″ Value Line Full Circle Lazy Susan 3-Tray Set (for 38-46) |
| RV-LD-4BW-001-18SB-1 – LNG | 37.64 | | 18″ LD Banded Wood Full Circle Trays W/Steel Bearing 1 Per |
| RV-LD-4BW-001-20SB-1 – LNG | 38.89 | | 20″ LD Banded Wood Full Circle Trays W/Steel Bearing 1 Per |
| RV-4WLS882-32-570 – LNG | 218.57 | | 32″ Half Moon Wood Lazy Susan -2 Shelf Set w/ Hardware |
| RV-4WLS882-35-570 – LNG | 251.09 | | 35″ Half Moon Wood Lazy Susan -2 Shelf Set w/ Hardware |
| RV-4WLS882-38-570 – LNG | 288.45 | | 38″ Half Moon Wood Lazy Susan -2 Shelf Set w/ Hardware |
| RV-5PSP-15-CR – LNG | 340.95 | | Blind Corner Optimizer – Unhanded |
| RV-432-BF-3C – LNG | 97.92 | | 3″ Base Filler Pull-Out with Adjustable Shelves |
| RV-432-BF-6C – LNG | 117.91 | | 6″ Base Filler Pull-Out with Adjustable Shelves |
| RV-432-BFSC-3C – LNG | 151.4 | | 3″ base filler with Blumotion soft-close |
| RV-432-BFSC-6C – LNG | 177.12 | | 6″ base filler with Blumotion soft-close |
| RV-432-WF-3C – LNG | 89.96 | | 3″ Wall Filler Pull-Out with Adjustable Shelves |
| RV-432-WF36-3C – LNG | 97.82 | | 3″ Wall Filler Pull-Out with Adjustable Shelves -36″ Height |
| RV-432-WF36-6C – LNG | 120.19 | | 6″ Wall Filler Pull-Out with Adjustable Shelves -36″ Height |
| RV-432-WF42-3C – LNG | 104.1 | | 3″ Wall Filler Pull-Out with Adjustable Shelves -42″ Height |
| RV-432-WF42-6C – LNG | 126.39 | | 6″ Wall Filler Pull-Out with Adjustable Shelves -42″ Height |
| RV-447-BC-5C – LNG | 114.99 | | 5″ Tray Divider/Foil & Wrap Base Organizer |
| RV-448-BCSC-5C – LNG | 171.03 | | 5″ Base Organizer with Blum soft-close slides |
| RV-4DPS-2421 – LNG | 41.36 | | Small Drawer Peg System |
| RV-4DPS-3021 – LNG | 50.28 | | Medium Drawer Peg System |
| RV-4DPS-3921 – LNG | 64.97 | | Large Drawer Peg System |
| RV-544-10C-1 – LNG | 52.05 | | Removable under sink caddy with chrome basket |
| RV-563-51-C – LNG | 12.47 | | 2 Prong Towel Bar |
| RV-6572-11-11-52 – LNG | 17.07 | | 11″ Tip Out Trays – 2 Hinges |
| RV-6572-14-11-52 – LNG | 17.25 | | 14″ Tip Out Trays – 2 Hinges |
| RV-SBDT-2730-A-1 – LNG | 32 | | Undersink Drip Tray 27/30″ |
| RV-SBDT-3336-A-1 – LNG | 35.63 | | Undersink Drip Tray 36/33″ |
| RV-SBDT-3942-A-1 – LNG | 39.25 | | Undersink Drip Tray 39/42″ |
| RV-597-12CR-52 – LNG | 8.23 | | 12″ High Tray Dividers |
| RV-597-18CR-52 – LNG | 8.65 | | 18″ High Tray Dividers |
| RV-HPRV-1520 S – LNG | 88.74 | | Hamper Bottom Mount Wire w/ Polymer Bin for Bathroom/Vanity |
| RV-CTOHB-16-I-1 – LNG | 21.13 | | Acc CTOHT Series Hamper Cloth Inserts for Closet – 16″ Wide |
| RV-CTOHB-21-I-1 – LNG | 23.16 | | Acc CTOHT Series Hamper Cloth Inserts for Closet 21″ Wide |
| RV-35 – LNG | 12.13 | | 35 Qt Trash Can |
| RV-50 – LNG | 21.88 | | 50 Qt Trash Can |